Newspaper review: Shock at traveller site violence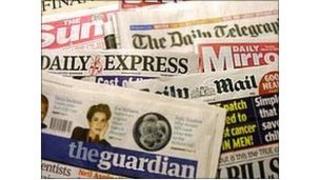 There are dramatic photographs of the clashes between police and protesters at Essex travellers' site Dale Farm, scenes that prompt the same headline in the Sun and Daily Star: "Farmageddon".
"A grim but predictable ending to a saga that has dragged on for a decade," suggests the Daily Express.
The "wretched climax" could do wider damage, warns the Guardian.
"The long tradition of mistrust between Traveller and settled communities has been inflamed into open hatred."
Policing
The Daily Mail condemns "wanton criminal violence by the travellers and their rent-a-mob accomplices".
"Assaulted, pelted with bricks and urinated on... police behaved with restraint," says the Sun.
"It can be a rotten job. We should be grateful to those who do it."
But the Guardian suggests "the strength of yesterday's police response, which included the first ever use of Tasers in crowd control, will raise difficult questions".
EU 'panic'
The Daily Mail reports "'complete panic' in Tory high command about growing support in the party for a referendum" on EU membership.
The prime minister is "facing a mutiny" over his wish to force his MPs to vote against a referendum.
Mr Cameron would be wrong to impose a whip, argues the Daily Telegraph.
"This is a backbench debate whose outcome will be in no way mandatory. It will be an expression of Parliament's opinion and should be an honest one."
Down under
Many papers are impressed by the 85-year-old Queen's stamina at the start of her tour of Australia.
The Times marvels at her "stepping off the plane and getting straight down to business as if jet lag were an affliction of ordinary mortals, not sovereigns".
"This is not being billed as her last time in Australia," the paper adds.
"It might not go down well here to announce "That's all, folks" on behalf of the Queen," the Times explains.