A flower show reopens in Canberra just for Royal visit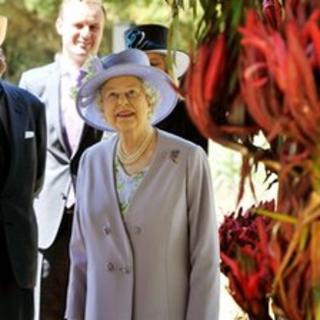 A flower show was reopened just for the Queen and the Duke of Edinburgh on the first day of their 11-day tour of Australia.
The Floriade, which is billed as the southern hemisphere's biggest flower show, shut to the public in the capital, Canberra, on Sunday.
But organisers resurrected the four-week event to give them the chance to see hundreds of thousands of flowers.
The Queen also had a meeting with her Governor-General Quentin Bryce.
The dignitary acts as the Queen's representative in the Commonwealth country.
At the Floriade, a team of gardeners spent the previous few days sprucing up flower beds, relaying paths and deadheading 100,000 tulips that have been viewed by more than 400,000 visitors this year.
Andrew Forster, the event's head gardener took the Queen around the attraction.
He said: "It looks fabulous, the team of expert gardeners have gone through the event and cleaned it up and presented it how a Queen would like to see it.
"She was very interested in the flowers and how they were mass planted. The posies are all spread out and really thick and lush, she was amazed by that."
The royal couple had arrived at the event in a classic motor launch known as the Admiral's barge - a vessel featuring polished wood and brass and used for ceremonial events.
The barge sailed around Lake Burley Griffin, under bright summer sunshine and the Queen and Duke were watched by thousands of well-wishers who lined the banks.