Scope says disabled people 'could lose vital benefits'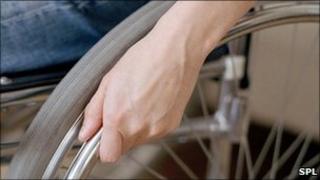 Many disabled people risk losing essential payments under planned benefits changes, a charity has warned.
Scope says the proposed test of claimants' need is flawed for focusing on the disability but ignoring relevant factors like housing and transport.
Thousands could be left with little or no financial support, Scope warns.
The government argues new payments will be more effectively targeted to those in greatest need, while cutting overpayments of £600m a year.
Some 3.2 million disabled people, including children, receive the existing disability living allowance.
It is in line to be replaced by the personal independence payment, which features in the government's Welfare Reform Bill.
A new medical assessment has been drawn up that will be carried out on disabled people of working age, of whom there are about two million.
But, according to Scope, that assessment "doesn't take into consideration all the barriers that disabled people face in daily life".
It highlights examples including unsuitable housing, inaccessible public transport, and a lack of informal support networks that "create significant extra costs for disabled people that in most cases are not related to the direct effect of an individual's condition and impairment".
Scope chief executive Richard Hawkes said: "We recognise that disability living allowance needs reforming and we fully support the government's ambitions to create a more active and enabling benefit."
But he added: "Without understanding the extent of barriers people face, the government has no hope to overcome them and genuinely enable people to take part in daily life."
The charity has designed an alternative assessment system that, it says, "will give disabled people the opportunity to address the barriers they face and therefore drive down costs in the long term, rather than placing a sticking plaster over them".
In response to the Scope report, minister for disabled people Maria Miller said: "At the moment disability living allowance doesn't have an in-built reassessment as part of it and we have £600m a year going out in overpayments as a result.
"I want to see that change so that the money is really getting to disabled people who need the help the most."