Charge of the Light Brigade bugle to sound out again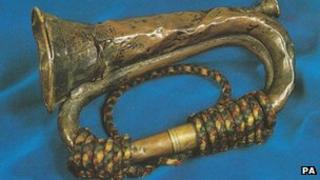 The bugle that sounded the Charge of the Light Brigade is to be taken out of its museum home and played once again.
The small, brass Balaklava Bugle will be heard at the British Military Tournament in London in December.
Billy Brittain, who was Light Brigade commander Lord Cardigan's duty trumpeter and member of the 17th Lancers, played the bugle on the morning of the Charge in 1854.
It was heard by British cavalrymen as they thundered into Russian gunfire.
Brittain was seriously wounded and taken to Scutari Hospital where he was nursed by Florence Nightingale, but died of his wounds.
The bugle was then passed to his father, also a Lancer.
The instrument will be taken out of the Queen's Royal Lancers Regimental Museum at Thoresby Hall, Nottinghamshire, where it is currently on display.
It will take centre stage when it is played by members of the Lancers Display Troop during a re-enactment of the Charge at the tournament at Earls Court.
'Star attraction'
Museum curator Captain Mike Holtby said: "The Balaklava Bugle is of huge historical importance and a star attraction here.
"We rarely let the bugle out of the museum but have made an exception for the British Military Tournament."
The event raises money for ABF The Soldiers' Charity, which offers financial assistance to soldiers and their families.
Major General Sir Evelyn Webb-Carter, chief executive of ABF, said the use of "this iconic piece of history" was "really extraordinary and at the same time exciting".
The charge was part of the most famous battle of the Crimean War, fought against Russia on the shores of the Black Sea.
Almost 700 cavalry sustained 40% casualties when they mistakenly charged artillery positions head on. It later became a byword for both military incompetence and soldierly courage.
The bugle was auctioned at Sotheby's in 1964, bought by the actor Laurence Harvey, who was hoping to star in a film of the charge, and presented to the museum live on the Ed Sullivan show.