The Maxwell Murdoch tabloid rivalry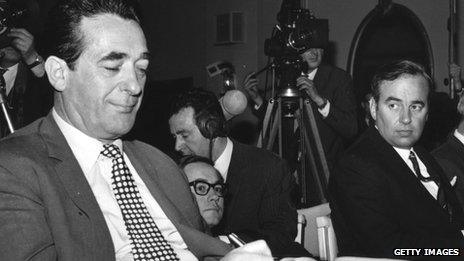 It is 20 years since the death of Rupert Murdoch's greatest rival - the media tycoon Robert Maxwell.
For seven years the two men slugged it out in a circulation war between Murdoch's Sun and Maxwell's Mirror.
And while the Murdoch empire is still reeling from the phone hacking scandal today, the Maxwell empire was embroiled in a major pensions scandal in the 1990s.
But Mr Maxwell's untimely death meant he never had to face the consequences.
He died on November 5th 1991 after falling from his private yacht, the Lady Ghislaine, which was cruising off the Canary Islands.
Within weeks of his death the true financial state of the Mirror Group became apparent. More than £300 million in pension fund assets had been taken by Maxwell illegally from under the noses of the trustees in the weeks before his death.
This was done via an investment company effectively controlled by him in a series of ultimately failed attempts to support his debt ridden empire.
Yet it was all so different when he first bought the Daily Mirror from Reed International in 1984 when he was awash with money.
Maxwell had long hoped he would be able to take over a national newspaper, but had twice lost out to Rupert Murdoch, who succeeded in taking over the Sun and the News of the World.
The Mirror's editor at the time Mike Molloy recalled when Maxwell first arrived at the paper he expected to be sacked because he had opposed him getting control.
He said: "We were all grim because he had a fearful reputation. In he came and immediately sat down in the managing director's chair. It was a demonstration that he was suddenly the new boss. Bob was like a child with a Christmas present."
Maxwell declared that his aim was to make sure the Mirror beat The Sun and began making changes to the paper including the sacking of John Pilger who he described as being "an over-rated journalist".
Pictures of scantily clad women began to appear on the pages and critics accused him of trying to beat the Sun by copying it.
Then he got a new editor, Roy Greenslade. He had worked for a number of Fleet Street papers for what he called the "three tough characters" - Rupert Murdoch, Kelvin MacKenzie and Andrew Neil.
So he thought he could handle Maxwell.
But he recalled: "I realised I had done entirely the wrong thing. It was impossible. He interfered at every level.
"If I took a day off he would sack somebody and so I would have to come back in and get it sorted out and get the person re-hired."
Obsessed with beating Murdoch, Maxwell opened a new front in the traditional tabloid circulation war with million pound prizes.
But his public promises to make ordinary people rich were accompanied by private manoeuvrings to ensure it never happened.
He launched a spot the ball competition where players had to identify where the football was in a picture showing an action shot of a game. They were promised if they got it right they would win £1 million.
But Mr Greenslade said: "He took aside the promotions manager and myself and he said 'between you, I want you to make sure no one can win £1 million'.
"I thought, look no one believes they are going to win these games anyway and I agreed to do it.
"So for weeks we put the ball in such a place that no one could stand a chance of winning. I hated myself for it."
Maxwell's undoing had been his purchase of the American publisher Macmillan in 1988 for which he paid a high price and it quickly began dragging his empire into debt.
Even to this day there continues to be speculation about how he died. Some have suggested it was suicide and that he deliberately threw himself over the side because he knew of the coming financial scandal.
Others have suggested he fell overboard after having a heart attack and there were even claims he could have been murdered after claims he was linked to Israeli intelligence - links he had denied.
His dream of beating the Sun came to nothing and instead of turning Mirror readers into millionaires he left thousands of employees fearing they wouldn't have a pension.
Alastair Campbell, who worked as a political correspondent on the Daily Mirror recalled: "At the time he was a kind of enormous character not just in newspapers but weirdly part of national life as well...
"The history of newspapers is littered with big larger than life characters who have come along, present themselves in a certain way, have lots and lots of doubts about them but somehow they get through.
"They end up owning newspapers and terrible things emerge. So could it happen again? I am sure it could."