Prison numbers in England and Wales hit fresh record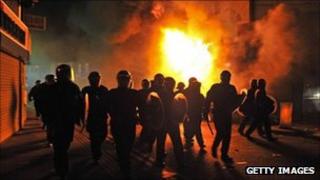 The prison population in England and Wales has increased by almost 200 in a week, taking it to a new all-time high of 87,945.
Governors have 1,310 places available across jails to deal with further rises.
The rise in the population has been put down to the numbers being jailed or remanded following England's riots.
The Ministry of Justice said it had contingency plans in place and capacity would soon increase further.
The Prison Service said that as of Friday the maximum operational capacity was 89,255 - the level judged to be the safest after taking into account the need to segregate some prisoners.
A spokesman said: "We have seen a significant rise in the prison population as a result of the public disorder in August.
"Managing the increase in the population is challenging but we have been continually developing contingencies to manage the additional population.
"We currently have enough prison places for those being remanded and sentenced to custody."
The spokesman said capacity would rise in 2012 with the opening of two new prisons. HMP Thameside, in South-East London, will hold up to 900 inmates. HMP Featherstone 2, near Wolverhampton, will hold 1,600.
"We will continue to explore contingencies arrangements should further pressure be placed on the prison estate."
The Ministry of Justice said that no inmates had been placed in police cells under the long-standing Operation Safeguard emergency plans. These plans were last activated in 2007 when spare capacity dropped to around 100 places.
Figures released last month suggested that the riots would contribute to the prison population growing by about 1,000 over the next year.