Cigarette safety standards tightened across EU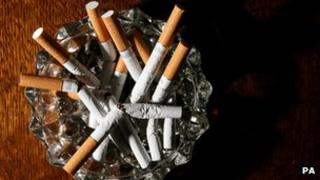 New cigarette safety standards have come into force in an attempt to cut the number of people killed in house fires.
They mean that every cigarette sold in the EU must meet a reduced ignition propensity (RIP) requirement.
Cigarette paper must have special bands at intervals down its length so that, once lit, a cigarette will go out if it is not actively smoked.
The change has been welcomed by safety campaigners and anti-smoking groups.
According to latest figures from the Department for Communities and Local Government, around 2,800 fires in the UK were caused by smoking materials in 2008 -101 people died and 932 were injured.
It is estimated the new cigarettes could prevent 1,800 fires, 67 fire deaths and 600 casualties a year in the UK.
The anti-smoking charity Action on Smoking and Health (Ash) believes the new cigarettes could dramatically reduce the number of house fires.
Its director of policy and research, Martin Dockrell, said "Cigarettes are without doubt the most dangerous consumer product on earth - they kill 50% of people who use them.
"Finland has already introduced RIP cigarettes - last year the number of smoking-related fire deaths there fell 40%.
"You have to ask yourself why the tobacco companies resisted this change for so long. This simple change will dramatically reduce the number of household fires," he said.
The London Fire Brigade has lobbied for the new safety standards to be adopted since 2005.
The chairman of London Fire and Emergency Planning Authority's Community Safety Committee, Councillor Susan Hall, said the introduction of the law is a "watershed moment" for UK fire safety.
"Cigarette fires are a killer, destroying lives and properties across the country every day".
"These new safety standards amount to an all-out attack on the single biggest cause of fire deaths in the country. But people still need to take care. Never smoke in bed and always dispose of cigarettes carefully," she said .