UK newspaper review: Gaddafi's son centre of attention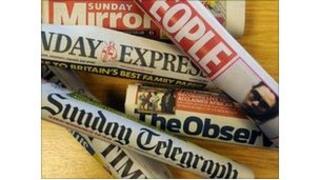 The bearded face of Colonel Gaddafi's son, Saif al-Islam, stares out from the front of many of Sunday's newspapers.
The Observer says he was "hunted down" in the Libyan desert as he tried to escape, and that he looked thinner, and had allowed his hair to grow.
The Mail on Sunday says he looked humbled, with sharp western suits replaced by traditional Arab dress as he tried to disguise himself.
The paper says he was cowering and "clearly terrified".
A different picture is on the Sunday Mirror, which uses a more blurred photo showing Gaddafi's bandaged hand.
He had apparently been wounded in a Nato bombing raid at the time of his father's death.
Dapper student
The Daily Star Sunday claims MI6 agents played a key role in his arrest, using top secret equipment to bug his phones and lead Libyan forces to him.
The Independent on Sunday traces his progress from a dapper student feted by the west to an alleged war criminal.
Marie Colvin in the Sunday Times says he was not a playboy like his brothers, and was no Islamic zealot.
"It was his plausibility that meant he proved such a disappointment to those in the west who knew him", she says.
Big bazooka
In an interview with the Sunday Telegraph the Mayor of London, Boris Johnson, criticises the government's response to the eurozone crisis.
He dismisses David Cameron's idea of allowing the European Central Bank to be "a big bazooka".
The Observer urges the government to preserve the principle of universalism in the working of the welfare system.
Its editorial backs the 18 bishops who have written an open letter to the paper, saying proposed changes to benefits are "profoundly unjust".
The Observer says abandoning universalism would be "corrosive to society".
There are claims in the Sunday Express that illegal immigrants are demanding cosmetic surgery on the NHS.