Chris Huhne speeding claim case decision 'very close'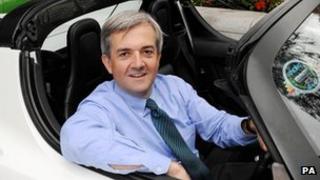 Prosecutors say they are "very close" to deciding whether to prosecute the Energy Secretary Chris Huhne over claims he tried to avoid a speeding penalty.
The Director of Public Prosecutions said the only remaining issue was evidence held by a newspaper.
Keir Starmer said the authorities were taking court action to obtain it.
Mr Huhne has denied claims he asked his then wife to take responsibility for a driving offence in 2003.
Police began investigating Mr Huhne more than five months ago after claims emerged that the Liberal Democrat MP for Eastleigh asked his ex-wife, Vicky Pryce, to accept penalty points on his behalf.
Mr Starmer told Radio 5 live's Victoria Derbyshire: "We are very close to a decision. There is one remaining issue which is that we are seeking some material which is held by a national newspaper.
"That means we need a court order to gain access to that material, we now have court proceedings ongoing and we just need to wait until they are resolved to take a decision.
"That is the only thing we are waiting for now."
"Important principle"
The speeding offence is alleged to have taken place in 2003 when Mr Huhne - then an MEP - was driving home from Stansted Airport after flying back from the European Parliament.
Police delivered an initial evidence file to the CPS in July but have since been pursuing other leads.
Mr Starmer added: "I understand why people think it is taking a lot of time but the way in which we get material from journalists is an important principle, quite separate from the Chris Huhne case."
Mr Huhne - who left Ms Pryce for another woman last year - has described the allegations as "simply incorrect". He said he hoped the probe would "draw a line" under the furore.
When the police investigation was launched he said the claims had been "made before and been shown to be untrue".