Leveson Inquiry: Summary of week two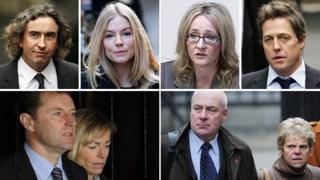 Big-name actors and the families of some high-profile victims of crime joined other public figures and ordinary people at the Leveson Inquiry to call for press regulation and tighter controls on British tabloids.
On Monday, Sally and Bob Dowler, the parents of murdered schoolgirl Milly, explained how the hacking of their daughter's phone gave them false hope she was still alive.
Mrs Dowler said they had called the 13-year-old's phone repeatedly in the weeks after she went missing, but the voicemail had become full.
She said she was able to access it again later after some of the messages were deleted when the phone was hacked, and recalled telling friends: "She's picked up her voicemail, she's picked up her voicemail".
Hugh Grant told the inquiry that the Mail on Sunday (MoS) may have hacked his phone.
The Hollywood actor said he could not think of any other way it could have got its story in 2007 about his conversations with a "plummy voiced" woman - although the MoS later "utterly refuted" his claim.
Mr Grant also accused the Sun and Daily Express of invading his privacy by publishing details of his medical record, which he claimed they had "appropriated... for commercial profit".
And his lengthy evidence revealed he and girlfriends had been "chased at speed" by paparazzi.
On Tuesday, comedian Steve Coogan told how journalists rifled through his rubbish bins looking for "lurid" details of his private life.
Asked by Robert Jay QC how he knew they were reporters, he said: "I saw them from my bedroom window. They did not look like tramps - not far off."
The entertainer, best known for his character Alan Partridge, said some people entered a "Faustian pact" with the press, but he had never sought fame and was a private person.
Earlier, former Blackburn Rovers captain Garry Flitcroft, told the inquiry he believed media coverage of his extra-marital affairs contributed to his father's suicide.
Not all claims of tabloid excesses involved celebrities or public figures.
Margaret Watson, from Glasgow, told the inquiry how her son killed himself after reading derogatory articles about his dead sister.
Mary-Ellen Field, a business adviser to supermodel Elle Macpherson, says she was fired for leaking secrets which were actually obtained by journalists hacking into the Australian star's phone.
It was the turn of Gerry and Kate McCann on Wednesday, who said they were distraught by press suggestions they were somehow responsible for the disappearance of their missing daughter Madeleine during a family holiday in Portugal in 2007.
Mr McCann said many of the stories were untruthful, sinister or, he believed, made up - and his wife said seeing her private diary published in the News of the World made her feel "totally violated".
On Thursday, actress Sienna Miller and Harry Potter author JK Rowling told the judge-led inquiry how they and their families had been affected by press invasion of their privacy.
Miss Miller said she had been spat on and chased by photographers, and blamed friends and family when personal information appeared in the press - when in fact her phone had been hacked.
Ms Rowling recalled the "anger" and "sense of invasion" she felt on finding a message from a journalist in her five-year-old child's school bag.
And former motorsports boss Max Mosley claimed his son could not cope and turned to drugs when he saw published photographs of his father at a sadomasochistic orgy.
Other witnesses due at the Royal Courts of Justice in London next week include singer Charlotte Church, broadcaster Anne Diamond, and Chris Jefferies, the landlord of murdered architect Joanna Yates, who was falsely accused by various tabloids of being her killer.
Transcripts of the hearings are available on the Leveson Inquiry website.