Afghan sniper killed two British soldiers, inquest told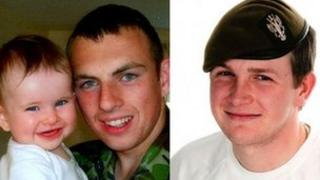 Two soldiers were killed by a sniper during an ambush in Afghanistan, an inquest has been told.
Corporal Terry Webster, 24, and Lance Corporal Alan Cochran, 23, were killed while on patrol in Helmand province on 4 June 2010.
A third member of the 1st Battalion The Mercian Regiment (Cheshire) was seriously injured in the incident.
An inquest at Chester magistrates court heard the sniper may have been using bullets made in Britain.
Taliban stronghold
Fragments of enemy ammunition recovered nearby were similar to ordnance issued to the British Army.
The coroner was told the Taliban sometimes obtain British ammunition, usually when it is lost during battles.
The deaths happened when B (Malta) Company was attacked near the Taliban stronghold of Anizu Kalay, in Nahr-e Saraj district.
Their commanding officer, Major Richard Grover, said they had only arrived in the area the day before and immediately came under sustained attack.
Cpl Webster, from Chester, and L/Cpl Cochran, originally from St Asaph, Denbighshire, were crossing a drainage ditch when their group came under machine-gun fire.
Seconds later they were hit by sniper fire.
Platoon commander Lieutenant Nathan Rogers told Cheshire deputy Coroner Janet Napier: "As soon as we heard the machine gun fire we dropped to the ground and returned fire to suppress the enemy position.
'Man down'
"Terry and Alan were the last two men across the ditch. I heard 'man down' over the radio. Terry was my second-in-command and I had not heard from him so that suggested he was injured but I couldn't be certain."
Lt Rogers said: "I threw a smoke grenade and headed back across the ditch. As we got back, it was clear there were three casualties."
Cpl Webster died from a single wound to the neck while L/Cpl Cochran had a fatal head wound.
Corporal Anthony Williams was taken to hospital on a Chinook helicopter and survived his gunshot injuries.
The inquest heard an Apache attack helicopter was immediately sent to the area to target the enemy positions.
Pathologist Dr Russell Delaney told the inquest nothing could have been done to save the two soldiers.
Forensic firearms specialist Andre Horne said it was likely the sniper used an M-16 rifle or similar weapon.
'Proud of them'
Dr Napier recorded verdicts of unlawful killing and added: "I am impressed by the professional conduct, comradeship and loyalty which has been shown in amazingly difficult circumstances."
She told their families: "You should be very, very proud of them and the country should be very, very proud of them."
Outside the inquest L/Cpl Cochran's fiancee, Claire Brookshaw, 19, from Wallasey, Merseyside, said they had planned to get married in the summer of 2011.
"I miss him very much, particularly on anniversaries. He was doing what he wanted to do," she added.