Newspaper review: Papers assess public sector strike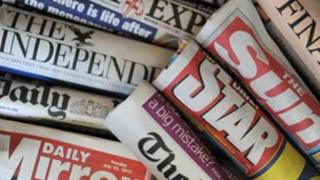 Most of Saturday's papers assess the disruption expected on Wednesday when public sector workers strike over pensions.
The Financial Times says it will impact most on small, labour-intensive firms who do not have the resources to cope.
The Daily Mirror claims PM David Cameron is "hell bent on recreating his hero, Margaret Thatcher's confrontation with the unions at any price".
While the Sun sums up the prospect in one word: "chaos". It says as many as 25,000 schools could shut down.
'Eerie silence'
The storm clouds over the eurozone stubbornly refuse to shift. The Daily Mail says an "eerie silence" has fallen and the world "dreads the worst".
The chancellor cannot "insulate the economy" from what happens across the Channel, claims the Daily Telegraph.
While the Independent says George Osborne "deserves some credit" for having made Britain "a safe haven."
The Daily Express, meanwhile, asks whether it is time to examine the merits "of a life outside the EU".
'Horror story'
Most titles reflect on the progress of the Leveson Inquiry into media ethics - after the first week of evidence.
Amid "moments of drama" and "almost of farce" it was a "horror story" of lives casually ruined, the Guardian reports.
The Independent says clearing the air serves a purpose, but it is no shock some journalists behave despicably.
A cartoon in the Times shows boy reporter Tintin having stern words with his faithful terrier: "Be honest, Snowy, did you hound Hugh Grant?"
Blizzards
Several papers reveal policy wish-lists ahead of the Autumn statement.
The Daily Express would welcome more help for young people out of work.
The Independent looks for job creation, too, and also help for business, more lending by banks, tax breaks for investors, and more capital spending.
Finally, the Times tells us "the long Indian summer is over" with winter due to "assert its frosty self over the next few days". The Daily Express agrees saying blizzards are on the way.