UK newspaper review: Sunday papers look ahead to strike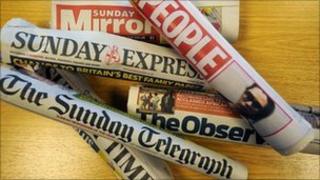 The Sunday papers turn their attention to the upcoming strike by two million public sector workers over changes to their pensions.
The Sunday Mirror reports that soldiers from Third Battalion Military Intelligence based in London will be sent on courses on how to carry out passport checks at Heathrow.
Border staff there are set to walk out.
Meanwhile, shadow chancellor Ed Balls tells the Independent on Sunday that he has "huge sympathy" for the workers taking industrial action.
Deputy Prime Minister Nick Clegg says public sector workers on lower incomes are getting a pension deal "as good if not better" than their current ones.
In the Observer, he urges workers to visit the government website to see what is being offered and compare it to what union bosses have told them.
The Sunday Star reports the death of a 79-year-old woman after trying to stop muggers stealing her husband's ashes.
The paper said her family "paid an emotional tribute" to the woman.
The UK has "donated millions of pounds" to a programme that pays Taliban gunmen £100 a month to stop fighting in the Afghanistan, the Sunday Telegraph reports.
It reports that insurgents who vow to stop fighting can keep their weapons and will not face criminal charges.
Under the headline "starving Britain", the Sunday Express reports that 100,000 Britons rely on charity food parcels.
The paper claims "thousands of desperate families" rely on parcels and "roadkill" as they cannot afford food.
The Mail on Sunday and the Observer report on One Hyde Park, the world's most expensive residential block, which is in Knightsbridge, London.
The Observer reports that only nine of the 62 apartments, which range in price from £3.6m to £136m, are registered to pay council tax.
The Mail on Sunday's Matt Sandy says that three flats have been bought by named individuals.
Doormen told him that on most days only 10 people are in the building.