Newspaper review: Chancellor's Autumn Statement covered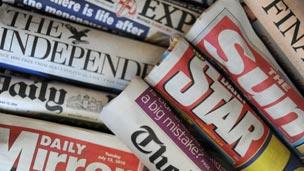 The chancellor's Autumn Statement is the focus of many papers, with the Daily Telegraph calling it "alarmingly dark".
Windswept too - according to a cartoon in the Independent, which shows George Osborne naked, the last leaf that covered his modesty blown away.
A squirrel tells two of its offspring, "We're down to our last hundred acorns," - and one youngster mutters: "Dad's delivering his Autumn Statement."
The Financial Times believes the decision-making was never going to be anything other than politically-driven.
These are "perilous times" for the chancellor, as well as the country.
The sense of shock at the apparent suicide of the Wales manager, Gary Speed, is universal.
"In this land of mystical dragons," says the Sun, "a burning flame has been extinguished."
The Times reflects that "Fame, money, glory... do not inoculate a person from the deeper, more complex and troubling facets of life."
The workers, it says, are the nation's "lowest paid" and they "can ill-afford to lose a day's pay before Christmas".
Related Internet Links
The BBC is not responsible for the content of external sites.