Newspaper review: Chancellor's Autumn Statement covered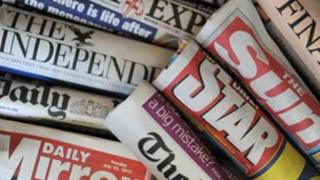 The chancellor's Autumn Statement is the focus of many papers, with the Daily Telegraph calling it "alarmingly dark".
Windswept too - according to a cartoon in the Independent, which shows George Osborne naked, the last leaf that covered his modesty blown away.
The Daily Mirror describes him as "Ossy the ostrich" - refusing "to face facts" and offering "cold comfort".
A cartoon in the Daily Express also shares the seasonal theme.
A squirrel tells two of its offspring, "We're down to our last hundred acorns," - and one youngster mutters: "Dad's delivering his Autumn Statement."
As so much of what he will probably say is already being talked about, the Guardian calls it clever politics - "He has got his retaliation in first."
The Financial Times believes the decision-making was never going to be anything other than politically-driven.
These are "perilous times" for the chancellor, as well as the country.
Speed's death
The sense of shock at the apparent suicide of the Wales manager, Gary Speed, is universal.
The Daily Mail says he was loved, full of life - "bright, funny, interested, articulate".
"In this land of mystical dragons," says the Sun, "a burning flame has been extinguished."
The Times reflects that "Fame, money, glory... do not inoculate a person from the deeper, more complex and troubling facets of life."
Union determination
The determination of the public sector unions to strike on Wednesday has the support of just one the major nationals - the Daily Mirror.
The workers, it says, are the nation's "lowest paid" and they "can ill-afford to lose a day's pay before Christmas".
"Nothing will stop us from striking" is the headline chosen by the Daily Mail to sum up the attitude of the unions.
The Daily Star has a piece about the "huge payouts" union bosses receive when they retire.