Lord Prescott: 'Conspiracy against poor' at climate talks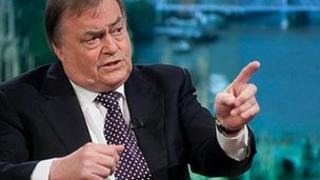 Rich nations are trying to scupper a new climate deal, ex-deputy prime minister John Prescott has said.
The Labour peer alleged a "conspiracy against the poor" was in danger of destroying attempts to get a successor to the 1997 Kyoto agreement.
He said the current Kyoto provisions should be suspended instead of allowing them to expire in 2012.
The US said it was committed to making a success of the UN climate talks currently taking place in South Africa.
Canada said it was committed to reducing its emissions but would not sign a new agreement that does not include all major greenhouse gas emitters.
Lord Prescott told Radio 4's Today programme the clock should be stopped on the Kyoto provisions and a "reassessment" made in 2015 - or a new deal would "wither on the vine".
"That is what Canada and America want, and one or two other countries," he said.
"It is a conspiracy against the poor. It is appalling. I am ashamed of such countries not recognising their responsibilities."
Lord Prescott - the Council of Europe's rapporteur on climate change - said politicians should not use the global financial crisis as an excuse for putting off action on climate change.
Problems stemming from climate change would make the current financial crisis look "like a tea party", he added.
Kyoto protocol
The Kyoto protocol bound industrialised countries to overall cuts of about 5% in greenhouse gas emissions by 2012, compared with 1990 levels.
The treaty did not require rapidly developing countries China, India and Brazil to reduce their emissions.
Other UN talks have followed, including the 2010 Cancun summit and the 2009 Copenhagen summit.
Several countries - including Japan, Russia and Canada - have said they will not take any further cuts under the Kyoto Protocol.
A US State Department spokeswoman said the US was committed to making a success of the UN climate talks in Durban.
She said: "Our priority will be to advance the balanced package of agreements that was first negotiated in Copenhagen and then adopted in Cancun.
"These include agreements reached in Cancun on transparency, mitigation, adaptation, technology, and financing.
"For us, a balanced package in Durban includes adopting the required guidelines for transparency and accountability which will help the global community understand how all countries are meeting their undertakings to reduce emissions; setting up the green climate fund, the new clean technology center and network, and the adaptation committee."
She added that the US would not weigh in on the Kyoto debate as it was not party to the Kyoto Protocol.
A spokesman for Canada's environment department said the country wanted a new agreement that included "all major emitters".
He said: "Our government is balancing the need for a cleaner and healthier environment with protecting jobs and economic growth.
"The Kyoto Protocol does not include major emitters like China and the United States and therefore will not work. Canada will not sign on to a new agreement that does not include all major emitters.
"We remain committed to reducing Canada's greenhouse gas emissions by 17% below 2005 levels by 2020, and we are making good progress.
He added: "Canada believes that the most fair, effective and comprehensive way to address global climate change is through a single, new agreement that is based on the Cancun Agreements, which includes commitments by all major emitters."