Phone-hacking police probe NoW medical records claim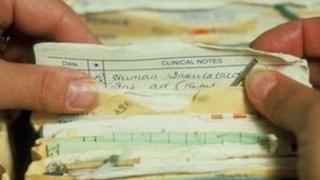 Police are investigating whether details from the medical records of a prominent celebrity were illegally obtained by the News of the World.
The probe is being carried out by the same Met Police unit looking at the hacking of mobile phone voicemails by reporters from the now-defunct tabloid.
The BBC has learned the celebrity contacted police after hearing claims the paper obtained a doctor's report.
News International says it is co-operating with police investigations.
The BBC's Jon Manel understands that the new inquiry was triggered by allegations made on a BBC Radio 4 programme in February.
Three former tabloid journalists told the programme that medical details about famous individuals were obtained for the papers they worked on. The police investigation is believed to be focusing on the case of one of these well-known people.
A Scotland Yard spokesman told BBC Radio 4's PM Programme that it does not yet know if any criminal offences had been committed in relation to the material.
It comes after actor Hugh Grant claimed at the inquiry into press ethics that several tabloids published details of his medical records.
'Prognosis details'
It is understood that the allegations being investigated by the police relate to claims made during an investigation for the documentary, News from nowhere - how the papers got their stories.
Unnamed former tabloid reporters said the newspapers they worked on obtained medical details about celebrities.
One described how health information about a football manager was read to him by a colleague over the phone.
The second made allegations relating to a former soap star.
The third claimed to have seen information about a well known celebrity's health, which had been placed by a colleague on a desk.
The celebrity whose complaint triggered the police inquiry does not want to be identified.
'Worse than hacking'
As yet there is no indication about how the medical information at the centre of the police investigation was obtained.
However, our correspondent says it is understood that the police have not ruled out broadening their inquiry beyond this individual case. It is also possible that it might yet be passed onto the Information Commissioner to examine.
One celebrity contacted by the BBC has said that medical records being obtained represented a level of intrusion which was even worse than phone hacking.
The Leveson Inquiry into press ethics began last month following the phone-hacking scandal that engulfed the News of the World, eventually forcing its closure.
Operation Weeting is now investigating claims of more widespread phone hacking. Meanwhile, allegations of computer hacking are being investigated by Operation Tuleta and Operation Elveden is investigating allegations of payments made to police by journalists in exchange for information.
Under surveillance
In a separate development, lawyers for James Murdoch, chairman of News International, confirmed that Labour MP Tom Watson - a prominent critic of phone hacking - was put under surveillance for a week by a private investigator in 2009.
Three unnamed News International employees were involved in setting up the monitoring of Mr Watson, a letter to MPs on the Culture, Media and Sport Select Committee said.
Last month it emerged that Mark Lewis, a lawyer who represents phone-hacking victims, had been secretly spied on and he said he had seen evidence that MPs on the committee, which is investigating phone hacking, had also been targeted.
News International later said the action was "deeply inappropriate" and "not condoned by any current executives at the company".
The letter added there were was no evidence other politicians on the committee were tracked by private investigators.