Soldier who died from Afghan injuries named by MoD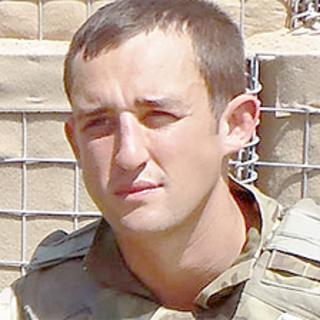 A soldier who died from injuries sustained on Tuesday in Afghanistan has been named as Sapper Elijah Bond of 35 Engineer Regiment, Royal Engineers.
Sapper Bond, 24, from Cornwall, was conducting an engineer reconnaissance task in central Helmand when he was hurt in an improvised bomb explosion.
He was evacuated by helicopter to the military hospital in Camp Bastion and later taken to the UK.
He died at the Queen Elizabeth NHS Hospital in Birmingham on Thursday.
Sapper Bond was born in Havant, Hampshire and grew up in St Austell, Cornwall. He joined the Corps of Royal Engineers in August 2008.
He had a vibrant personality and in quieter moments was an excellent chess player, a Ministry of Defence spokesman said.
'Wicked grin'
The soldier is survived by his parents Lizz and Mark, brothers Isaac and Jose, and sisters Kimberley and Bethany.
The family said in a statement: "Elijah Cooper Bond left the world in the way he chose to live his life. He was a beautiful son, amazing brother, a proud uncle and our best friend.
"From a wicked grin to a righteous smile he could light up a room as much as he lit up our lives.
"[He was] so mischievous and fun yet grounded and down-to-earth. He will forever be a piece of us and remain in our hearts."
Lt Col Kevin Copsey, Commanding Officer, 35 Engineer Regiment, said Sapper Bond was a first-rate soldier who would be sadly missed.
"Sapper Elijah Bond's friendly exterior belied a soldier who was physically robust, mentally tough, and always intent on doing the utmost for his team-mates," he said.
"It was whilst on an engineer reconnaissance patrol helping to plan vital infrastructure for the local population that he paid the ultimate price.
"Tragically he gave his life in order to improve the lives of others."