Paper review: David Cameron's EU veto discussed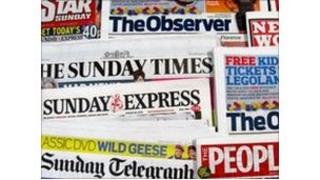 The Sunday papers devote considerable space to assessing David Cameron's use of the veto at the European summit.
The Sunday Times talks of Britain's "fractious marriage" with the EU.It is not yet clear whether this is a divorce, it says, but if it is, Britain will not be impoverished.
The Mail on Sunday has an editorial which bears the title:"26 deluded nations, one brave man."
The Sunday Telegraph calls Mr Cameron's actions "brave and correct".
The Observer speaks of David Cameron's "political and personal failings".
It suggests he allowed his relationship with Angela Merkel and Nicolas Sarkozy to deteriorate to such an extent that he could not read the signals that they would give him nothing.
"Britain's been betrayed," according to the Sunday Mirror,"by a shameful PM."
The Independent on Sunday summed up the UN climate talks in Durban by stating:"194 nations discuss climate change - and achieve nothing."
'Problem' families
Britain's "problem families" are costing the country £9bn a year, says the Mail on Sunday.
Research shows that 120,000 families with jobless parents and truanting children cost the taxpayer £75,000 each year, the paper says.
The Independent on Sunday claims former Home Secretary David Blunketthas accepted "a substantial pay off in a secret deal".
This was made after his mobile phone was hacked by the News of the World.
The Sunday People tells how a pub quizmaster has devised questions which cannot be Googledto beat those who use smartphones to cheat.
Scott Bray from Manchester asks players to recognise smells and uses spot-the-difference or observation puzzles.
The Sunday Times reveals the Admiralty Arch has been put up for sale.
The price tag is £75m but, as it points out, the world famous London landmark does offer spectacular views of Buckingham Palace and the Mall.