Counting down to a jobless Christmas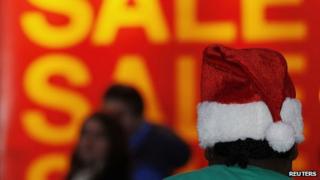 There can be great pressure on families to splash out at Christmas. But with the jobless total rising, many are cutting back on their spending this year.
The high streets are full of glitzy snow-flaked displays - and even early sale signs. Christmas catalogues flood out of every newspaper you open. Cutesy ads vie for space on our TV screens.
In fact, adverts for Christmas gifts seem to be the only thing on television at the moment, says Paul Edwards, from Bristol.
This is the first Christmas he has faced without a job in 32 years, and he says his celebrations "will be cut to the bone".
He won't be alone.
The number of people unemployed stands at more than 2.6 million - the UK's highest jobless total since 1994.
'It's hard'
Corinne Mills runs work coaching service Personal Career Management. She has seen a 300% increase in people seeking help in the last quarter - both among the jobless and those feeling stuck, afraid to change jobs in the current market.
They have anxieties over money, says Ms Mills, and all they hear on the news is "doom and gloom" and predictions of years of austerity.
Paul, 49, was made redundant in April after 32 years of work. The print-finishing business he worked for went into voluntary liquidation.
One day the boss turned up at his factory and said the company had run out of money. It was closed by 11:00 that day. Paul had worked there 11 years.
"I've got four children between the ages of seven and 15. It's hard," says Paul.
"We haven't got much money. We live from week to week. We get benefits but that doesn't cover the outgoings.
"Last year we spent quite a lot on Christmas - I was employed, things were hunky dory. This year we just can't do it."
Paul had to call a family meeting to tell his children they could only pick a few things from their Christmas lists.
Looking for bargains
"Our children made huge lists. We totted up the value of it. My nine-year-old boy's came to £852. So we told him - 'name the four things you really want'."
The family searches for bargains to get by, using vouchers, scouring the internet for deals and buying some items second-hand on eBay.
Owain, 27, has also been looking for bargains. Like Paul, this is his first Christmas without work in years.
Owain lives with his parents in Rugby, Warwickshire. He says it is impossible to think about a mortgage or renting somewhere with friends.
He thought his career in marketing was on track. But after leaving his previous company amid budget cuts he faces a very difficult job market.
"This year I won't be enjoying the delights of the German market in Birmingham or Milton Keynes," he says.
He looks for deals online, which also saves him the cost of driving into town.
"I'll be spending £15 to £20 on each person. Before I might have spent £60, or up to £100 on close family," he says.
'Peer pressure'
People understand his predicament, he says, because money is tight for everyone.
Many people have not saved for the festive season - two in five are in this category, according to a recent survey for Barclaycard.
Still, there is "real peer pressure" to buy presents, even if a family is struggling with money, says Emma Cook, operations manager at Birmingham's Citizens Advice Bureau.
She has noticed more jobless people coming through its doors.
"Having work and being able to make decisions about your life - your housing, your children's education, about travel and holidays - it's empowering," says Miss Cook.
"Once you take [jobs] away, you're taking away that ability to make those decisions. And that can be quite disabling."
Joe Ferns, director of research, development and operations for the Samaritans, says some people who call the charity express shame about their situation - and that stops them talking to their families.
Unemployment exacerbates the pressures that are naturally on people at Christmas, he says, particularly for traditional breadwinners who feel their role is to "protect and provide".
When they feel they are not doing that, it "challenges them very deep down", he says.
"The pressure is there to keep up with the perception of what everyone else is doing."
Family Christmas
Back in Bristol, Paul says he can at least look forward to spending time with the family.
"We'll make a good Christmas of it - that's all we can do."
"All I want is a bit of luck. You have to remain positive. There will be something around the corner."
As for Owain, he has just received an offer of a job starting in the new year.
He says it is "more a feeling of relief than joy" after months of trawling through job sites with little luck.
"Time, however, is much better spent being grateful rather than bitter - especially at this time of year," he says.