Paper review: Focus on Clegg's Cameron 'snub'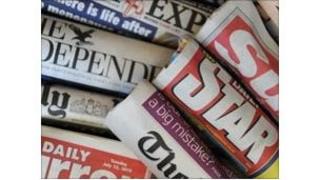 The fallout of the EU summit and Nick Clegg's absence from the Commons during the PM's statement on the issue dominates most of the papers.
The deputy prime minister's "vanishing act"snubbed Mr Cameron's triumphant appearance, the Daily Mail reports.
TheIndependent says Mr Clegg's refusal to take up his usual placenext to Mr Cameron was an astonishing gesture.
TheSun accuses him of behaving like a petulant schoolboy, while theDaily Mirror says he hid away.
Tougher regulation
ADaily Telegraph cartoon shows a notice on a lamp post outside No 10.It reads "Lost - Deputy PM. Small reward".
The outcome of the EU summit marks the beginning of thesecond phase of the coalition, according to the Times.
TheFinancial Times believes the collapse of the coalition could sink a UK economyalready listing.
And theDaily Express focuses on the warning by European CommissionerOlli Rehn that the PM's veto won't save the City of London from tougher regulation.
'Political incompetence'
The report by the Financial Services Authority on the collapse of the Royal Bank of Scotland gets wide coverage.
After forking out billions of pounds torescue RBS, taxpayers deserved a report that named names, says the Times.
TheSun says the report shows every taxpayer has lost money- except the man who was in charge, Fred Goodwin.
In theMail's view, the report tells a sorry tale of hubris,mismanagement, lax regulation and political incompetence on an epic scale.
Gender wars
TheTelegraph leads on a report by retail expert Mary Portaswho says the UK's high streets are in crisis but predicts the decline can be reversed.
Finally, astudy of 2,000 men suggests a third think women make too much fuss about Christmas, the Mail reports.
The survey found men reckon the season would be less rushed, cheaper and less stressful if they were in charge.
TheExpress tells us a quarter of those surveyed would ditch turkey,and half wouldn't send Christmas cards.