'Sobriety bracelets': Met Police consider criminal tags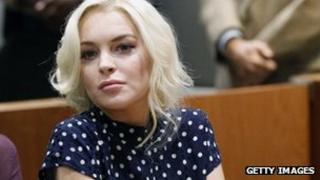 Criminals in London may be forced to wear US-style "sobriety bracelets" under plans being considered by the Met Police Commissioner.
Bernard Hogan-Howe believes the tags could help in a crackdown on alcohol-related crime in the capital.
He is monitoring a trial in Strathclyde - believed to be the first area outside the US planning to use the bracelets.
The electronic tags detect whether offenders have broken drinking bans while serving community sentences.
Actress Lindsay Lohan is among the US-based offenders forced to wear the tags.
Up to 90% of night-time arrests by Met police have to do with alcohol, Mr Hogan-Howe said.
He said "you can literally smell the problem" by walking around police cells at night as so many being detained are drunk.
"It is important for us to use technology and use these preventative measures around the two areas of alcohol and drug-related crime," he told delegates at the London Policy Conference.
The technology had prevented the "vast majority" from breaking bans in the US, he said.
The bracelets - often tagged to the ankle - record alcohol intake by measuring air and sweat emissions from the skin every half an hour.
They can reportedly detect blood alcohol levels as low as 0.02% and can tell when an offender drinks alcohol before transmitting that information to a monitoring station.