Paper review: Continued focus on EU summit aftermath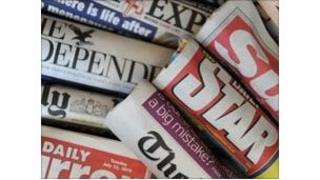 The papers continue to focus on the political hangover from the Euro summit.
The Timesdismisses the angerexpressed by Euro politicians on Tuesday as alternating between navel-gazing and obsessing about the "wicked Brits".
The Financial Times revisits prospects for the wider global economy, focussing on an expected property crash in China
Funding elderly care is thefocus of the Daily Mailand Telegraph. They say reforms could be delayed by 10 years.
The FT says that as China accounted for almost half of all global economic growth last year, investors and economists fear a "hard landing".
The paper says platoons ofsalespeople for high-end apartments "stand idle on the frontline"of a looming and massive real estate bust; with potentially dire consequences for nations relying on China for their own growth.
The Timessays Euro politicians are ignoringa fresh crisis facing the banking sector - which will need to raise trillions of dollars next spring to increase capital and repay debt, with no clear idea of where the money is coming from.
According to the Daily Telegraph,thousands of British troops may be withdrawnfrom Afghanistan a year earlier than currently planned, in 2013. Apparently Defence Secretary Philip Hammond wants to start the pull-out sooner to save money.
Phone-hacking
The Guardian and the Independent stay with phone-hacking as their main story.
The Independent says James Murdoch's claim he didn't know the practice was widespread at the News of the Worldhas been "dramatically undermined".
The Daily Mail makes up for its earlier less than blanket coverage of the scandal with a full-page articlecriticising the Guardian's initial reportthat Milly Dowler's phone messages were deleted.
"Those unanswered questions over that toxic claim", it says.
The Sun reflects on the upcoming anniversary of the disappearance of Jo Yeates, who was found murdered last Christmas Day.
It hasinterviewed her fiance, Greg Reardon, who tells the paper he regretted not being with Jo to protect her from the neighbour who killed her, but had no reason to believe she was in danger.
Mellow milestone
While the Daily Express finds that turning 50 is no longer a "mellow milestone" for men - it's when they are at their most competitive.
Itquotes findings in the journal Psychology and Agingthat when men were given a choice of doing maths problems alone, or against a rival for a cash prize, older men chose to go head-to-head while the younger were more fearful.
Apparently it demonstrates a surprising need for social dominance among the middle-aged.