Hearsay evidence backed by human rights judges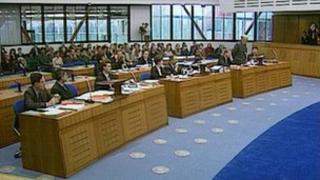 Hearsay evidence in a trial does not automatically breach a defendant's human rights, EU judges have ruled.
The Grand Chamber of the European Court of Human Rights ruled on UK government appeals over two trials which had used statements from absent witnesses.
These could be used, said the judges, if there were "counterbalancing factors... to compensate for the difficulties caused to the defence".
An earlier judgement on the cases had found rights were breached.
A defendant's "right to examine witnesses against them or have them examined" is enshrined in the Human Rights Convention.
The latest judgement found the conviction of 36-year-old London-based Iranian Ali Tahery, for stabbing a man, had involved a breach of his human rights because of the "untested statement of the only prosecution witness with the only direct evidence" against him.
Mr Tahery was awarded £15,000 in costs and damages.
However, the indecent assault conviction of Imad Al-Khawaja, a 55-year-old consultant physician at Brighton General Hospital, was found not to have breached his rights as there had been evidence from other witnesses alongside the written statement.
"The court agreed with the domestic (UK) courts and found that a conviction based solely or decisively on the statement of an absent witness would not automatically result in a breach of Article 6-1 (of the Human Rights Convention)," the Grand Chamber judges declared.
"However, counterbalancing factors had to be in place, including strong procedural safeguards, to compensate for the difficulties caused to the defence."