Two terror suspects charged over 'control order breach'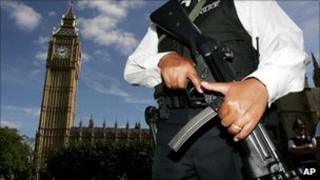 Two terror suspects have been charged with breaching their control orders, the government has said.
The two failed to comply with the conditions of their orders - which have been compared to house arrest.
Nine British citizens are subject to control orders, which the government is ending and replacing with Terrorism Prevention and Investigatory Measures.
The home secretary said each order is kept under review to ensure obligations remain "necessary and proportionate".
Control orders were created for suspects who the security services believe are involved in terrorism and are a risk to the public, but cannot be prosecuted due to insufficient evidence.
The new Terrorism Prevention and Investigatory Measures (TPims) came into force last Thursday. They will run alongside control orders until January 25 so police and MI5 can get used to them.
Home Secretary Theresa May revealed the alleged breaches of control orders as she set out the 42-day cross-over period from control orders to the new TPims.
"This is to allow for an orderly, managed and, above all, safe transition to the new system," she said.
Between September and December, 19 modifications were made to existing orders and two were ended, Mrs May said.
The orders can include banning suspects from meeting named individuals and restrictions on internet and mobile phone use.