Phone hacking: Glenn Mulcaire wins legal fees action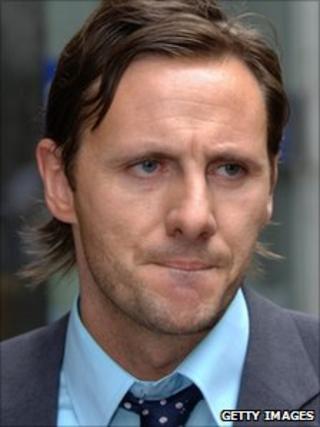 The former employer of private investigator Glenn Mulcaire has been ordered by a court to pay his legal fees in phone-hacking civil cases.
News Group Newspapers was found to have breached a contract with him and to be liable for his fees incurred in litigation due to start in February.
Mr Mulcaire was jailed in 2007 for illegally accessing voicemails.
Meanwhile, former News of the World editor Andy Coulson has lost a separate case against his ex-employer over fees.
News Groups Newspapers' (NGN) parent company News International has yet to respond to the judgement in Mr Mulcaire's case, which was heard at the High Court.
The Met Police's Operation Weeting is investigating the hacking of mobile phone voicemails of public figures by the now-defunct News of the World paper, which was closed down after 168 years as a result of the scandal.
Comedian Steve Coogan and PR consultant Nicola Phillips have launched privacy cases against newspaper publisher News International.
Mr Mulcaire was contracted to the News of the World to undertake "research assignments" from at least September 2001.
He had argued that he could not fund his legal defence or pay costs or damages incurred in the civil phone-hacking litigation and asked for a declaration that NGN had no right to terminate an alleged June 2010 indemnity.
But NGN argued that its former employee's demand for £750,000 in return for his co-operation over the proceedings had negated the offer.
In his ruling, the judge - Chancellor of the High Court, Sir Andrew Morritt - said Mr Mulcaire's conduct had given rise to 70 separate claims against him and NGN.
The first was by Professional Footballers' Association chief executive Gordon Taylor, in March 2007, and the most recent by model Abigail Clancy, on 6 December this year.
The judge added that Mr Mulcaire was paid £80,000 in full and final satisfaction of all his claims, but sought to extract a further sum as he considered he had "carried the can" and been harshly treated by comparison with others equally involved in phone tapping.
'Acting on instructions'
A statement issued by the private investigator's solicitor following the High Court judgement said: "Glenn Mulcaire is pleased that the court has recognised that the contractual indemnity by News Group Newspapers to pay his legal costs is enforceable.
"As he always said, he was acting on the instruction of News Group Newspapers and he clearly needs legal representation to deal with the numerous cases. As the recent events at the Leveson Inquiry have shown, these matters remain very complicated."
Earlier this month Mr Mulcaire was arrested and bailed on suspicion of conspiracy to hack voicemail messages and perverting the course of justice, as part of Operation Weeting.
Former News International chief executive Rebekah Brooks and ex-Downing Street communications chief Andy Coulson are among those who have already been arrested as part of the inquiry. They have been bailed and deny any wrongdoing.
Mr Coulson, 43, had taken NGN to court over the construction of a clause within a severance agreement from his resignation - following the imprisonment of the NoW's royal editor Clive Goodman - in February 2007.
He claimed NGN should pay "professional costs and expenses properly incurred" by him in defending criminal allegations during his tenure.
But Christopher Jeans QC, for NGN, argued the clause covered the "occupational hazards of being an editor" and not alleged criminal activity.
In his ruling, Mr Justice Supperstone said the agreement did not cover the criminal allegations made against Mr Coulson personally and that in any case no proceedings had commenced.
He ordered Mr Coulson to pay NGN's costs.
Mr Couslon resigned from his position as Prime Minister David Cameron's director of communications in January, saying that coverage of the scandal was making it too difficult for him to do his job.