'Trying to adopt was heartbreaking, a nightmare'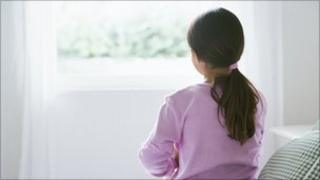 The government is to speed up the process of adoption in England, saying it is "painfully slow" and "unwelcoming". It is a sentiment some people who have been through the system share.
"When you get rejected, it is so upsetting, it is like hearing that you can't have baby all over again - only this time you don't understand why," says Anna Powell.
The 40-year-old resources manager, who works for one of the UK's top accountancy firms, describes her experience of the adoption approval system as a "nightmare" which left her "heartbroken".
She says when she started the process - which she embarked on as she was unable to have children after suffering from ovarian cancer in her 20s - she was optimistic and everything seemed to be going well.
"Before I worked in resources, I was a nanny, so I know children pretty well and love being around them. I had my own house, I had a good job and could work from home two days a week.
"At my initial assessment, they seemed happy with my financial and health situation and my family history, which was great."
Finnish-born Anna, who has been settled in London for 20 years, says she was assigned to a "wonderful" social worker and went through a "long and thorough process" for over a year, during which her file was built up.
She says she probably invested about a day every fortnight in training and assessments, which she was happy to do because she understood the system needed to be rigorous.
But she says when it came to the next stage, when she was due to go before a panel, the process started to stall, and was delayed three or four times, without explanation.
'Traumatic'
"I didn't understand why it was stalling and it started getting stressful. In the end the supervising social workers took my social worker off the case without any warning or discussion and rejected my application.
"They wanted me to go through the whole process again with another temporary social worker. I was red raw - when they take your social worker away it is pretty traumatic, you've shared your life with them. I did try with the new social worker, but it was much more difficult," she says.
From then, Anna says the process got progressively more and more upsetting.
"They kept raising the amount of capital I needed - which I could raise - but I felt like they were trying to put me off, that they wanted me to say 'I can't do this anymore'."
In the end, she says, they got what they wanted. She walked away.
"It makes me very sad, because I have the room and time to give to a child, but I can't put myself through it again until I see some progress in the system.
"There needs to be an understandable start and end to the process - a way of getting from A to B - at the moment it feels blurred, almost insane, like you are left in the dark."
Michelle and her husband, who have eventually managed to adopt a child, agree that the adoption process needs to be looked at again.
Explaining their motivation for adopting, 46-year-old Michelle, from Kent, says: "When we realised we were not able to have children of our own, we thought about fertility treatment, but figured we could end up spending a lot of money and nothing happen, and we thought we'd rather give a child a home that needed it.
"Also I'm adopted, and my husband has got two adopted sisters, so we knew the benefits."
Michelle says she understands why the initial processes of becoming an approved adopter is so protracted, because in some instances it is a grieving process as couple come to terms with not being able to have their own child.
In other cases, it is just about making sure it is the right thing for everybody involved, particularly the child.
But although Michelle thinks the lengthy approval process - "which makes you feel like a psychologist as you analyse your behaviour and heritage" - is understandable, she says the process of matching prospective parents with a child needs to be reformed.
'Emotional'
"It took four years to match us with a child. First of all they seemed to be frowning a bit that my husband would be the main carer, then there seemed to be an issue with the fact we had two rescue dogs - and they weren't sure how children would behave with them.
"Sometimes we were informed of a potential child, but then it wouldn't work out - in one case they said a girl had gone to a family where there was already another child, in another case they changed their mind and said the family lived too close by.
"We didn't understand why these cases were ever brought to our attention, why they built up our hopes and then shattered them - it can make you feel down, and question whether there is something wrong with you," she says.
Michelle says adoption was a "very emotional" process for the couple, who have been married for 16 years, but thankfully they did not give up.
They managed to adopt their son, now eight, when he was three - and they have been looking after his half brother, aged three, for four months.
But Michelle says it has continued to be a frustrating process.
"The younger brother had been in care for 15 months. I understand they were trying to resettle him with his birth mother, but if he'd come to us earlier he would have had fewer problems."
Michelle says adoption is without doubt a very complex area, and every situation needs to be looked at thoroughly, with safeguards in place.
But she is adamant there must be a better way.
"We have been lucky to adopt two wonderful children but nearly missed out due the long wait and obstacles we had to go through.
"The whole process needs to be reassessed. There needs to be a time frame for how long it can take - in my opinion it shouldn't take more than 24 months," she says.