Troops in Helmand get a taste of Christmas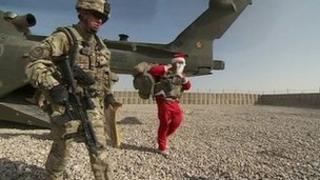 Some of the most austere forward operating bases in Afghanistan were transformed on Sunday by soldiers' Christmas decorations hanging from the tents and the Hesco bastions - large sandbags - that dominate every camp.
Despite the hardship of being a long way away from home at Christmas time, those at the toughest patrol bases and checkpoints seemed upbeat, with plenty of activities planned in between the usual patrols and a festive lunch or supper.
At frontline bases across Helmand, Santa dropped in by helicopter with presents - accompanied by his own close protection team.
Santa's role here on Sunday was filled by the commander of British forces in Helmand, Brig Patrick Sanders, who wanted to thank in person the men and women serving in some of the toughest areas this Christmas Day.
He spoke at several different bases, telling the soldiers that he was proud of them and what they had achieved - and that if they could not be with their own families today, at least they could celebrate with their close-knit regimental family.
On Sunday, in the field kitchens, it was perhaps the chefs who had to work hardest - from the early hours of the morning, with even the most far-flung patrol bases enjoying a full festive lunch.
By the afternoon, those who had been out on patrol were at last able to enjoy a little time off - to rest or to ring home.
Pte Alex Dalmege of B Company, 1 Yorks, was hoping he would be able to get through to talk to his family.
"They do try their best to make it a good day out here. We've had various competitions, and the chefs always do a good job, so it's been a good day.
"Hopefully I'll talk to my family later on."
He admits his mother and grandmother do not like him being away at Christmas - and worry about him.
'Daft o'clock'
"But at least they'll be spending Christmas together at home. I missed another Christmas in Iraq the year before last, so I should be used to it by now," he says with a smile.
Pte Ben Kilminster from the 1st Battalion the Yorkshire Regiment is also spending his second Christmas away on operations.
"I got up at daft o'clock when we were woken by every senior rank, putting a sausage butty in our hands.
"Obviously I'd rather spend Christmas back at home, but at the end of day, we're infanteers, and it's our bread and butter."
After several visits, Santa and his team fly on to yet more bases, the ground veering crazily beneath as the helicopter sought to avoid any small arms fire below - a telling reminder of the daily dangers for the men and women making the best of this Christmas far from home.