Ofsted head calls for local school troubleshooters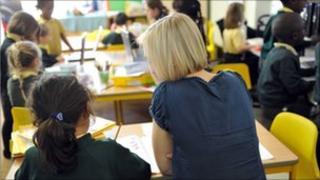 Local troubleshooters should be appointed to identify failing schools and sack incompetent heads, England's new chief education inspector has said.
Incoming Ofsted chief Sir Michael Wilshaw said spotting failing schools should not be down to him alone.
And he told the Times newspaper more schools would become independent academies under government reforms.
The Department for Education said parents should play a bigger role on raising standards.
Sir Michael said that by the time Ofsted recognised a school as failing it was often too late, and that this created the need for local troubleshooters or school commissioners to identify problems early.
Local authorities already have a role in monitoring standards of the schools for which they are responsible, but academies are independent of local authorities and do not have the same degree of oversight.
The number of these schools has grown rapidly over the past year from from 203 in May 2010 to more than 1,000 in September 2011.
Sir Michael called on ministers to appoint dozens of these commissioners in local areas to decide whether to close or merge academies, or replace head teachers or governing bodies where standards were unacceptably low.
They could be modelled on commissioners which monitor school standards in the US, he said.
But under Sir Michael's ideas, they would be accountable to central government rather than to city mayors and local councils as they are in the US.
He told the Times: "These people would be non-political, in other words they would not be like LEAs responsible to a council... they would be people who would report directly to the secretary of state.
"I speak as someone who believes in autonomy and who believes in independence and as a great supporter of the academy programme, but we know there will be some academies that won't do well.
"It is no good just relying on Ofsted to give the judgment. By that time it is too late. We need some sort of intermediary bodies which can detect when things aren't going well, look at the data and have their ear very close to the ground to determine when there is a certain issue."
Sir Michael also said scruffy teachers could be rebuked by his organisation, saying school inspection reports should comment on the professional dress and behaviour of staff.
"If we turned up at the doctor's surgery or the lawyer's offices or a surgeon's consultation we would expect them to look professional, it's the same with teachers," he said.
Stephen Twigg, Labour's shadow education secretary, said his party would give "serious consideration" to the idea of commissioners, but there needed to be "strong evidence" the plans would work in the UK.
"We have been looking at the idea of local schools' commissioners to raise standards and deal with poorly performing schools, whilst protecting autonomy and local accountability," he said.
"But the Tory-led government must answer serious questions before bringing in any changes. Will the new posts be accountable to local parents and communities? Will the new superintendents be qualified professionals?
"What relationship will they have with local authorities? Will there be a rigorous process of appointment or will the new jobs be given to favoured sons who simply fit with the Tories' out of touch and out of date ideology?"
A Department for Education spokesman said the government had already established the Office of the Schools Commissioner and would take action to deal with any failing school or academy.
"We have also published more information than ever before about how schools are performing, including their spending and results, so they can be held to account and parents really know what is going on in schools, including academies," he added.
The Institute for Public Policy Research (IPPR) think tank has backed the idea of schools commissioners.
IPPR associate director for public service reform, Rick Muir, told BBC Radio 4's PM programme: "Because we now have all of these academies and free schools, with autonomies that the IPPR welcome, we have a highly centralised system of school accountability.
"We have no one in the system who can hold academies to account if they're failing or struggling, apart from the secretary of state for education."
But Brian Lightman, general secretary of the Association of School and College Leaders, said: "I find this proposal absolutely extraordinary because what it's representing is a complete U-turn for the government.
"What it's saying is the academy system is not working and we need to go back to something like local authorities. It sounds to me like a system of chief education officers."
The new chief inspector for Ofsted will take up his post in January. Sir Michael was until recently the head of Mossbourne Academy in east London.