Quarantine laws to be relaxed in UK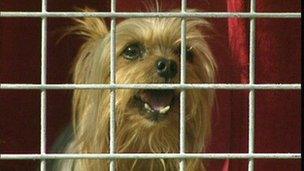 The UK's animal quarantine laws are to be relaxed from the start of January.
The current laws governing the movement of pets will be brought into line with European legislation.
The Department for Environment, Food and Rural Affairs (Defra) said "vastly improved rabies vaccines" meant pets no longer had to spend six months in quarantine when entering the UK.
But some animal welfare groups claim the changes could expose Britain to an increased risk of rabies.
Britain's quarantine laws were introduced in the 19th Century to combat the threat of rabies.
Currently, any dog, cat or ferret entering the UK must be vaccinated against and blood tested for the disease before being quarantined for six months.
But from January, pets from the EU and listed non-EU countries such as the US and Australia will no longer need a blood test and will only have to wait 21 days before they travel.
Pets from unlisted non-EU countries such as India, Brazil and South Africa will be able to enter the UK if they meet certain strict criteria to ensure they are protected against rabies, including a blood test and a three-month wait before they enter the UK.
Current rules which require animals to be treated for ticks and tapeworm will also be relaxed.
The UK, along with the Republic of Ireland, Sweden and Malta, has an exemption from the standard EU pet travel rules, but all those nations are harmonising their entry rules with the rest of the EU at the same time as the UK.
Defra said that all pets entering the UK will still need to be vaccinated against rabies, and that the changes will ensure the risk of rabies coming to the UK remains "extremely low".
Dogs entering the UK have been subject to the quarantine since 1897. Cats were added in 1928, and ferrets in 2004. There have been 24 human deaths in the UK from imported rabies since 1902, with the last indigenous animal case being reported in 1922.
It is estimated that the new rules mean there would be one case of rabies in a pet in the UK once every 211 years, with the possibility of a person dying from rabies obtained from a pet once in every 21,000 years.
Defra said that bringing the UK's Pet Travel Scheme into line with the rest of the European Union had the potential to save pet owners about £7m in fees.
Environment Secretary Caroline Spelman said the UK's quarantine system "has now been left far behind by scientific advances".
She added: "It's time we changed these outdated rules which have caused hardship to generations of pets and pet owners, and those who rely on assistance dogs, with too many animals cooped up unnecessarily.
"What is needed is a simpler, evidence-based system for protecting the UK from rabies which recognises the actual risk to pets and pet owners.
"The EU's pet movement scheme has been working very well for nearly a decade, and it makes sense for us to have similar rules. It means the UK will remain protected from rabies and other exotic diseases while making it easier and cheaper for people to take their pets abroad."
The EU Pet Movement Policy was introduced in 2004, but bringing the UK's policy in line with it has caused some concern among animal charities.
John Wannop, a vet for the Dogs Trust charity, said: "We tend to centre on rabies as the main entity, which of course it is, because it's a horrible disease both in animals and in man.
"But there are other diseases that Britain is free of that of course are endemic in the various countries from which dogs can travel.
"And that six month quarantine interval at least gives time for these diseases to at least become apparent."
Meg Purnell-Carpenter, from Overhill Kennels in Bristol, which is one of the UK's quarantine facilities, also has concerns over the relaxation of the rules.
"I think we are going to be very, very vulnerable," she said. "I think it's not 'if' we get rabies, I think it is 'when'".
Related Internet Links
The BBC is not responsible for the content of external sites.