Afghanistan blast victims named by MoD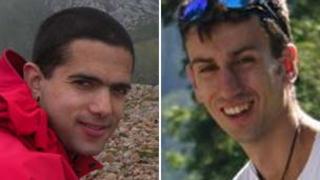 The Ministry of Defence has named two servicemen who died following an explosion in Afghanistan.
Royal Marine Captain Tom Jennings, 29, died when his vehicle was caught in the blast south of Kabul last Thursday.
RAF Squadron Leader Anthony 'Ant' Downing, 34, was flown back to the UK but died in hospital on Friday from injuries sustained in the explosion.
The number of UK personnel killed in Afghanistan since military operations there began in 2001 stands at 393.
The MoD described Capt Jennings as "a true leader, selfless in his professional approach serving those who were his responsibility".
"Dedicated and humble, he was an archetypal Royal Marine with a keen sense of humour even when faced with adversity. Whilst working with the Afghan forces that he partnered, he displayed empathy and a broad cultural understanding that ensured he was highly valued by the Afghans as well as his Royal Marine brothers," it said.
"He was devoted to his wife and their two young sons whose loss cannot be portrayed in words. The Royal Marines have lost a brother, they have lost their world."
Deeply respected
Sqn Ldr Downing was an engineering officer by trade, whose "generous nature and interest in Afghanistan" saw him involved in the planning and conduct of outreach patrols, the MoD said.
Group Captain Robbie Noel, station commander at RAF Kinloss, when Sqn Ldr Downing served there from 2007 until May 2010, said: "An immensely dedicated, talented and passionate engineer, Ant was instrumental in maintaining and sustaining the Nimrod Force under a spotlight of intense engineering and safety scrutiny.
"I was personally guided and heavily influenced by his outstanding, sensitive, and incisive counsel and advice on matters well beyond engineering, which was always delivered with the benefit of others as its prime motivation."
Gp Capt Noel said Sqn Ldr Downing's dedication and passion for supporting others were "characteristic of a hugely popular, and deeply respected and loved friend and colleague".
"The very many people who knew him were richer for the experience, and will be all the poorer for his passing," he said.
Gifted officer
Sgt Ed Jones, Deputy Team Leader, Mountain Rescue Service at RAF Kinloss, said Sqn Ldr Downing was "a true adventurer" who inspired everyone with his fitness and endurance.
In a statement, his family said Sqn Ldr Downing had expressed his wish to join the RAF as a child.
The statement said: "His parents had an easy ride with his upbringing; he was always kind and helpful although quiet and reserved. His brother had someone to look up to as Ant eagerly embraced adulthood. He continued these traits into his working life, keen to listen, help and inspire others to travel and reach for high goals.
"We treasure the memories and the achievements of his fantastic life and without him our lives have been diminished."
Defence Secretary Philip Hammond said he was deeply saddened by Sqn Ldr Downing's death and extended his sympathies to the officer's parents.
"The tributes paid by his family and colleagues speak volumes of this gifted military officer, whose dedication and ability were great assets to the Royal Air Force," he said.
Earlier this week, Prime Minister David Cameron indicated he was planning a phased withdrawal of troops from Afghanistan.
Some 500 are due to be pulled out next year, with more expected to follow in 2013.