UK soldier killed in Afghanistan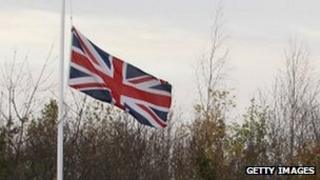 A soldier from 1st Battalion the Yorkshire Regiment has been killed in Afghanistan, the Ministry of Defence has announced.
He was killed by an explosion on 30 December in the Nahr-e Saraj district of Helmand Province while taking part in a foot patrol.
The soldier's next of kin have been informed of his death.
The number of UK personnel killed in Afghanistan since military operations there began in 2001 now stands at 394.
Serving as a part of Combined Force Nahr-e Saraj (North), the soldier was a member of an International Security Assistance Force foot patrol when he was caught in the blast from an improvised explosive device.
Task Force Helmand spokesman Lt Col Dan Bradbury said: "Our thoughts and prayers are with his family and friends at this very difficult time."
On Thursday, two servicemen who died following a blast in Afghanistan were named.
Royal Marine Captain Tom Jennings, 29, died when his vehicle was caught in the blast south of Kabul on 22 December.
RAF Squadron Leader Anthony 'Ant' Downing, 34, was flown back to the UK but died in hospital on 23 December from injuries sustained in the explosion.
Earlier this week, Prime Minister David Cameron indicated he was planning a phased withdrawal of troops from Afghanistan.
Some 500 are due to be pulled out next year, with more expected to follow in 2013.