London 2012: Olympic synchronised swimming tickets oversold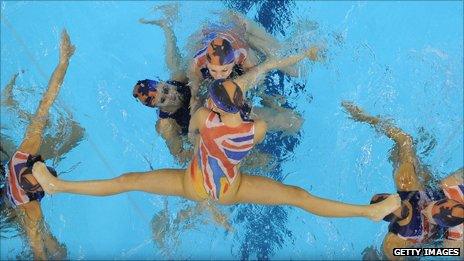 Thousands of people who bought tickets to see synchronised swimming at London 2012 have been asked to return them, after the organisers discovered that they had sold 10,000 too many.
Synchronised swimming was an event which was not initially oversubscribed.
When sessions for the sport were put back up for sale, a human data error meant thousands of extra tickets, which did not exist, were made available.
About 3,000 customers who bought the 10,000 tickets in the second round of sales have been contacted by Games organisers Locog.
They have been offered the chance to exchange their tickets for other events for which they also applied, and were originally unsuccessful.
Many of those with synchronised swimming tickets could actually end up swapping them for some of the highest profile events at the Olympics, like athletics and diving.
This means that there will be few complaints from those affected by the mistake, but it is an embarrassing error for the organisers to have to admit.
A spokeswoman for London 2012 told the BBC: "As a result of finalising the seating configurations in our venues and reconciling the millions of Olympic and Paralympic ticket orders against the seating plans for around 1,000 sporting sessions, we have discovered an error in seats available in four synchronised swimming sessions.
"In December we contacted around 3,000 customers who had applied for tickets in the four sessions during the second round sales process. We are exchanging their synchronised swimming tickets for tickets in other sports that they originally applied for."
Ticketing has been one of the toughest challenges for London 2012.
Hundreds of thousands of applicants failed to obtain any tickets, and there were complaints last summer when the official website struggled to cope with the huge demand.
More than a million extra tickets are due to go on sale in May.
These had been held back by Locog while seating positions were confirmed at al the venues. It is some of these tickets which have now been made available to those who had originally been expecting to watch synchronised swimming.
Related Internet Links
The BBC is not responsible for the content of external sites.