Analysis: Where now for Lawrence investigation?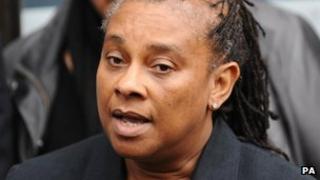 Wednesday's sentencing of Gary Dobson and David Norris was momentous for the history of modern British justice. It was a moment that Stephen Lawrence's parents in their darkest hours feared they would never see.
It was also a moment of huge importance for British society and the public were queuing out of the doors to get in.
Barristers sacrificed a little of their wigged dignity and squashed up bottom-to-bottom to make room for the Lawrence family and the legions of reporters.
One of Stephen Lawrence's relatives had her eyes closed and mouthed a prayer as Mr Justice Treacy read out the sentences.
The defendants stood, said and did nothing, and were taken down. There was applause - something I have never seen in court - and a shout of "Shame on all of you" from Gary Dobson's father.
What now?
So what happens now? Let's start by looking at where this incredible trial has left us.
Metropolitan Police chiefs have been extremely careful to avoid describing this as "justice" for Stephen Lawrence's family. They know it isn't when the other prime suspects are at large.
It is, as succinctly put in a tweet by Mr Lawrence's friend Duwayne Brooks, "some justice at last".
The convictions were a critical moment because the jury's verdict reflected where society now stands on overt blatant racism.
And the national sympathy for the Lawrence family has helped remind us all about the complex business of institutional racism - the subtler form of unspoken prejudice that allowed the death of a black man to go uninvestigated.
Doreen and Neville Lawrence's long and often bitter battle for justice has had a massive effect on British society. Their denial of justice led to two significant reforms of justice in its broadest possible sense.
Firstly, Parliament reformed race-relations law to place a duty on every public body to promote equality.
Secondly, it allowed somebody to be tried twice for the same serious crime. Today's jailings owe a great deal to those reforms.
The first, along with the damning findings of the 1999 public inquiry, changed the way the police worked. The second landed Dobson back in the dock.
So a corner was turned with the trial of Dobson and Norris - and what a corner it was. But the practical question is whether the investigation can continue - or will it only hit a dead end?
Mr Justice Treacy urged the police not to "close the file" on catching the remaining killers. Judges rarely intervene in this way - and he was giving voice to the public anger that men still remain at large.
We know that when the police re-opened the Lawrence files and started afresh in 2006, there were almost 200 potential suspects on the database.
Today, with Dobson and Norris convicted, there are nine suspects who have not been eliminated from inquiries. Police have always believed either five or six carried out the attack.
'Prime suspects'
The Macpherson report in 1999 said the "prime suspects" were Dobson, Norris, brothers Jamie and Neil Acourt and Luke Knight - all of whom have denied the allegation.
Metropolitan Police Commissioner Bernard Hogan-Howe said that the unidentified remaining remembers of the gang that killed Stephen "should not rest easily in their beds".
"We are actively reviewing the consequences of what opportunities might be presented," he said. And, appealing directly to witnesses, he added: "Anything you know, please tell us... We can make a difference in this case still."
The BBC understands that the Lawrence team are meeting next week to assess where the case now stands - and what the Yard as a whole can learn from this remarkable cold case turnaround.
But it will not be an easy road ahead. The original investigation was so utterly botched it is remarkable that there was any evidence to convict Dobson and Norris.
And so in the absence of forensic evidence against other suspects, police will hope that one of two things will happen.
Firstly, Dobson or Norris could turn on the other gang members. The long wasted years of prison life have a sobering effect on former criminal allegiances.
The pair are facing a likely move away from London because their presence in HMP Belmarsh, not far from their homes, may threaten security and order. Norris has already suffered from a serious beating while on remand.
The pair had an opportunity between conviction and sentence to speak to the police. They didn't take it.
The second possibility is that someone out there who knows something - perhaps a former partner or gang member - may find the courage to come forward.
There is one more outstanding legal issue: Will the men appeal? At present it appears extremely unlikely. The Court of Appeal's decision to sanction the retrial of Dobson emphasised the quality of the evidence. An appeal would probably have to be based on adverse publicity.
As for the sentences themselves - it is hard to see how they can be challenged. Mr Justice Treacy sits on the Sentencing Council that advises his colleagues - they follow his lead.
About 10 years ago, the then Lord Chief Justice reviewed life sentences given to some 40 juvenile offenders.
The most common minimum term before possible parole was 10 years. The highest was 20 years. Dobson and Norris have been convicted of the most notorious racist murder of 20th Century Britain - and their sentences are right in the middle of that range.