Newspaper review: Papers focus on Ed Miliband comments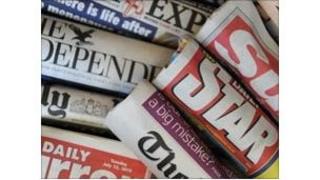 Ed Miliband features prominently in Saturday's newspapers, discussing the future of Labour but also for making a typo on Twitter.
The Guardian leads with its interview with the Labour leader,in which he talks of 'relishing the fight' in the 'hard years of opposition'.
He is also on the front of the Sunfor a gaffe on Twitter that is covered in all the papers.
In paying tribute to Bob Holness, whose death was announced, a typo had Mr Miliband remembering him fondly for presenting "Blackbusters" rather than Blockbusters.
Cosmetic concerns
According to the Daily Telegraph,the chairman of the Committee on Standards in Public Life has suggested that wealthy donors appear to be buying government policy.
Sir Christopher Kelly says the perceived influence of businessmen over MPs is undermining public trust.
In wake of the health scare over breast implants, theThe Times says high street clinics are injecting patients with anti-ageing fillers.
Its investigators claim that senior surgeons have said are dangerous.
HS2 approval?
"Why did she take them?" asks a headline in the Daily Mail,which leads on the revelation that the Countess of Wessex accepted a gift of jewellery from Bahrain's rulers.
In the Mail's words the Countess took "two lavish sets of jewels from one of the Arab region's most bloody regimes".
TheIndependent is among the papers to report that the transport secretary is set to approve the high-speed rail linkbetween London and Birmingham.
It expects to hear confirmation from Justine Greening within days.
TheDaily Mail expects Miss Greening to try to "soften the blow"with measures to mitigate noise and visual impact in some of the more sensitive locations along the route.
The Daily Mirror leads with a photograph of Wayne Rooney,billed as "exclusive", of what it calls "the night that cost Wayne £200,000".
He can be seen in a bar on a night out that led to him being fined by his club manager, Sir Alex Ferguson.
The Daily Express says a "price war" is "set to slash gas and electricity bills" by 10%.
The mild winter means suppliers are overstocked with gas, the paper says, causing wholesale prices to drop.