Fix still sought for 2012 resale site as football goes back on sale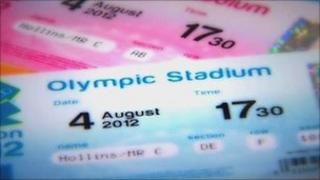 The London 2012 website has reopened for sales of Olympic football and Paralympic tickets but remains closed for resales of unwanted purchases.
The site, run by Ticketmaster, was suspended after problems with the new resales section on Friday afternoon.
Games organiser Locog said the section allowing unwanted tickets to be sold at face value was still being fixed.
Users had complained they were repeatedly trying to access tickets that were no longer available.
The ticketing website started partially functioning again shortly after 20:00 GMT on Monday. Users were able to buy tickets for the Paralympic and Olympic football events that remain unsold.
A spokesman for Ticketmaster said: "Ticketmaster has been working with Locog to identify and resolve the issues experienced last Friday, when the London 2012 resale platform was launched. Further updates will be provided as soon as possible."
The problem appeared to be that the site was slow to update sessions which had sold out but continued to display the tickets.
The site was designed to allow people to try to resell their unwanted London 2012 Olympic and Paralympic tickets to others willing to buy them.
Those who bought tickets directly from Games organiser Locog were given the opportunity to submit their tickets for resale on the London 2012 ticketing website until 3 February.
The tickets will be made available online for other customers to purchase during the resale window.
If sold, the seller will receive the full face value of their tickets. If the tickets remain unsold they will be returned to the ticket-holder's account. A further chance to resell tickets was planned for after April 2012.
Police have warned it is a criminal offence to resell London 2012 tickets on the open market without the permission of Locog.