London 2012: Olympic Route Network - Wheelchair user's concerns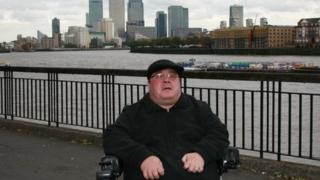 Tower Hamlets-based wheelchair-user Pat Davey feels that even though the Olympic Games are on his doorstep, locals have been sidelined.
"I was born in Bow and have lived in Tower Hamlets my whole life. I've been tetraplegic since a car accident broke my neck 10 years ago.
The Olympics is a prestigious event, but they haven't given a thought for the local people.
Apart from the new shopping centre, I don't see that it's had any benefit in the local area. My son, 19, applied for a job there and didn't get it. Most of the people working there aren't locals.
We're treated with disdain in the East End. Our borough was deemed not good enough to have the Olympics marathon but good enough to have all our roads closed off for the VIPs to come through.
We knew there would be disruption, but it's going to be murder.
Marooned
Even though the Games are on our doorstep we feel like we've been sidelined - we didn't get any tickets, so we'll just stay at home and watch it on TV.
Wapping's Highway is one of the main routes in and out of London from east to west.
The Olympic Route Network and the Games Lanes are going to turn it into one-lane traffic. We're going to have gridlock and the people of Wapping are going to be shut off completely.
Being disabled the underground is inaccessible for me. With hospital appointments or just getting around I'm reliant on an adapted vehicle to get about.
If we can't get anywhere because of the traffic situation we're going to be marooned.
It's pointless getting in your motor because you're not going to get anywhere. Basically it won't be worth going out.
Everybody's going to be isolated, and some of us feel trapped enough as it is having to live in the borough.
No consultation
They're taking out pedestrian crossings opposite the park, or opposite McDonalds, which are hotspots for kids. They're not going to walk half a mile to use another crossing, they're going to take the risk and cross anyway.
There's been consultation from TfL (Transport for London) but the only way we're aware of it is through social networking sites like Facebook. It's possible they've consulted the local council, but they certainly haven't consulted us.
They should have a working party made up of local people that knew how the area was run and that could give valuable input. Planners and surveyors have made all the rules but they don't know, they don't live here.
What they don't understand about the East End is that we're a very diverse community but we're a very strong community, there's a lot of deep-rooted values and we won't be walked over.