Paper review: Cruise liner draws Titanic comparisons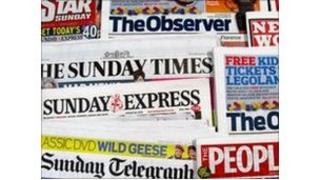 Dramatic pictures of the overturned cruise liner Costa Concordia off the Tuscan coast in Italy dominate the front pages.
TheIndependent on Sunday says the captain blamed faulty chartsand has insisted the ship hit an unmarked rock.
"As far as I am concernedwe were in perfectly navigable waters," the Sunday Express quotes himas saying.
According to theMail on Sunday, he has been accused of fleeing before the passengers.His arrest has been highlighted by the Sunday Times.
'Like the Titanic'
TheSunday Telegraph says chaos reignedas the order was given to abandon ship.
It says one crewman suggested some men ignored requests for women and children to go to lifeboats first as fathers did not want to be separated from their families.
The comments of some survivors that the accident "wasjust like the Titanic" are used as headlines in various titles including the Sunday Mirror.
TheObserver, meanwhile, says there is speculation electrical failuremay have led to the loss of navigational control.
"Immense downsides"
TheMail on Sunday discusses opinion poll findings which suggest there is more support in England for Scottish independencethan in Scotland itself.
The paper says the main worry for Scottish voters is that cutting UK ties will leave them with less cash.
Former ChancellorAlistair Darling tells the Observer they risk their economic futureby voting for independence.
The Edinburgh MP speaks of the "immense downsides" of leaving the UK at a time of deep trauma in the global economy.
The Thatcher tears
TheSunday Times says two French art restorers have quit a committeesupervising work on Leonardo da Vinci's Virgin and Child with St Anne in the Louvre in Paris.
They say it has been over-cleaned by two specialists from London's National Gallery - who did not comment - leaving it brighter than the artist planned.
Finally, thePeople says Lady Thatcher has now watched her life story,played by Meryl Streep in The Iron Lady.
A source says the former PM wept at painful memories of her time in office.