London 2012: Olympic 'traffic storm' study rejected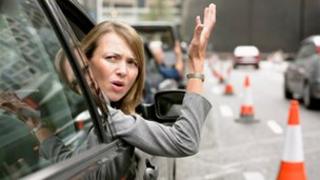 London 2012 Olympics travel chiefs have strongly denied new research suggesting the opening weekend of the Olympics will create a "perfect traffic storm".
Holding the opening ceremony and the men's road cycling race on a busy holiday weekend will increase the risk of traffic troubles on 27-29 July, says traffic information provider Inrix.
Transport for London said the report was full of factual inaccuracies.
The Inrix study was based on incorrect or out of date information, added TfL.
The Olympics and Paralympics are expected to draw 11m spectators during seven weeks, and Transport for London has published heatmaps showing expected congestion levels during the Games.
It has also issued travel advice and route planners for people travelling in London during the Games to help minimise congestion.
But, with 3m additional journeys anticipated on the busiest day, there are concerns London's narrow streets and already near-capacity transport network will not be able to cope .
'Huge stress'
The Inrix report - UK Summer Traffic Predictions: Inrix Traffic Congestion Report - details the likely effect of London 2012 on the UK's road network.
It says London roads will see a third more congestion during the Games, with average speeds on key routes slowing to just 12mph and the daily rush hour will start 90 minutes earlier, while 27-29 July will see the most disruption.
The report's author, Inrix Lead Scientist Greg Hallsworth, said: "Nearly 100,000 ticket-holders are expected at the opening ceremony, with tens of thousands of visitors anticipated at the live sites at Hyde Park and Victoria Park.
"Couple this with the thousands of roads closed for the Men's Road Cycling event and the result is huge stress on the UK's road networks."
According to Inrix's free-flow to congestion modelling, August will see morning peak traffic starting at 05:30 rather than 07:00 while evening peak traffic will start as early as 15:30, rather than 17:00.
But, it adds, evening traffic congestion may ease by 18:00 rather than 19:30 as people head to meeting places to watch events on television.
The Inrix report says journeys through routes identified as Games hotspots such as Vauxhall Bridge and the Blackwall Tunnel will increase by 25% during the Games, while journeys along core routes will take a third more time.
Inrix provides real-time traffic information and connected driving services.
TfL said the report did not take into account its six years of planning for London 2012, which had produced data on the projected impact of the Games on traffic flow, vehicle trips, congestion hotspots and journey times that have been published on TfL's website.
"It is unclear how Inrix has reached the conclusion that congestion will increase on the Olympic Route Network during Games time, when the purpose of the ORN is to achieve reliable journey times and improved traffic flow for the athletes, officials and others working to put on the Games," said Garrett Emmerson, TfL's Chief Operating Officer for Surface Transport.
"People who intend to drive through hotspot areas during Games time are advised to look at the day-by-day road traffic impacts maps and the online road journey planning tool ."
During the Olympics, some 35 miles (56km) of Games Lanes in London will be reserved for athletes, officials, sponsors, VIPs and media to ensure events run smoothly.
The Games Lanes will operate on London's 109-mile Olympic Route Network, which has sparked anger from businesses and residents fearing chaos because of traffic management measures including the closure of side roads, the banning of turns and the suspension of parking bays.
Critics say Games organisers have not taken the concerns of local people and businesses seriously as they drew up their plans, but Locog counter that they have consulted small businesses throughout the process.
TfL is holding 230 free workshops in London and across the UK over the next three months to help hauliers and their customers keep running during the Games, while launching a marketing campaign to make the raise awareness of Olympics-related transport issues.