Newspaper review: Papers tackle Miliband's cuts stance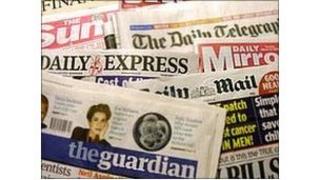 The papers pick over Labour leader Ed Miliband's pledge not to reverse Conservative spending cuts if he wins power at the next election.
The Daily Mail sympathises with union leaders that are, as it puts it, "snarling with rage" at the new policy.
But the move does make some sense, says the Financial Times - it removes from the hands of the government a big stick with which to beat the opposition at the next election.
Former Home Secretary Alan Johnson tells the Guardian that unions are at risk of becoming the "delusional left" and arguing for a "fantasy utopia based on an outdated ideology".
'Rip-off Britain'
Mr Miliband has given an interview to the Daily Telegraph in which he calls for the government to tackle what he describes as "rip-off Britain".
He calls for a new consumer watchdog to be created to limit pension fees, car parking charges and airline levies.
Meanwhile, the Times says Labour is raiding its local party assets to shore up its "precarious finances".
It links the move to a threat by unions to cut funding to the party in retaliation for Labour's cuts stance.
'Ship's rat'
"A ship's rat" is how the Daily Mirror describes the captain of the Costa Concordia, Francesco Schettino.
Lessons will be learned from the cruise ship disaster but the best procedures can never prevent the inexplicable actions of an individual, it says.
The Independent says it is a "damning picture of the captain's dereliction".
It reports that as passengers tried to escape, an apoplectic coastguard captain could be heard shrieking at Mr Schettino to "get back on board".
Windy woes
Wind farms are receiving millions of pounds to shut down when it's too windy, according to a Times report.
Payments are made by the National Grid, which cannot cope with the power fed into the system when it is very windy.
The Mail reports that Britain's oldest shopkeeper has decided to call it a day aged 103.
Jack Yaffe, who first stood behind the counter of his hardware store in 1934 when George V was on the throne, said: "It's time I put my feet up."