London 2012: Dove design for BA Olympics plane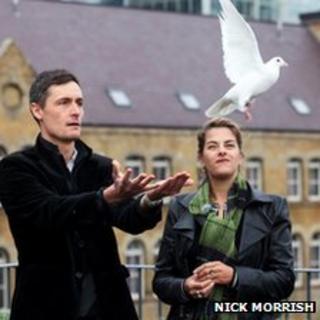 British Airways planes will be repainted in a dove design to mark the London 2012 Games.
The artwork by Brighton-based designer Pascal Anson will be seen on aircraft from April and the design will stay for at least the duration of 2012.
Some of the airline's A319 and 747s will be redecorated using an "Olympic colour", it said.
Turner prize-nominated artist Tracey Emin was on the judging panel as part of BA's Great Britons programme.
It aims to promote British talent in the run up to the Olympic and Paralympic Games.
Mr Anson, a design tutor at Kingston University, said he was inspired by the planes he saw flying in and out of Gatwick during his commute.
He said: "I've often looked up at aircraft landing and wondered if it's a 'bird or a plane', and the idea developed from there.
"I realised it had to be a dove. Not only are they a symbol of peace and social unity, but they were also used in previous Olympic Games ceremonies."
In a move that may or may not have alarmed former Prime Minister Lady Thatcher, the artwork will take over the complete livery of the aircraft.
BA said that despite the all-encompassing redesign, its identity would be kept intact, including the Chatham flag - named after the dockyard where all Royal navy flags used to be made - depicted on its tail.
Ms Emin, who will be a mentor to the designer throughout the project, said: "The dove is a stunning piece of work and will bring real excitement to anyone who flies on one of the repainted planes."
The design will be released in April.