Roman Abramovich and Boris Berezovsky court battle ends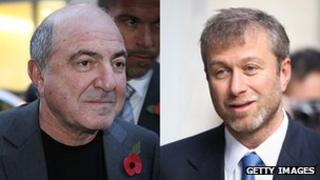 A multi-billion-pound High Court battle between Chelsea Football Club owner Roman Abramovich and exiled Russian oligarch Boris Berezovsky has ended.
Judge Mrs Justice Gloster reserved judgment to a date to be fixed after a trial at London's Commercial Court.
Mr Berezovsky, 65, sued Mr Abramovich, 45, for breach of contract during a hearing which started in October.
Mr Abramovich denied the allegations and denied Mr Berezovsky was entitled to damages.
The final evidence was presented last month and lawyers have spent the past few days making closing submissions.
Mr Berezovsky claimed Mr Abramovich betrayed him, intimidating him into selling shares in Russian oil company Sibneft for a "mere $1.3bn" (£800m) - "a fraction of their true worth".
'Political godfather'
He alleged breach of trust and breach of contract, and claimed more than £3bn in damages.
He said Mr Berezovsky was paid millions of pounds for his services as a "political godfather" but was not a business partner.
The court heard that Mr Berezovsky "fled Russia, never to return" in late 2000, following a falling-out with then president Vladimir Putin. He travelled initially to France and then settled in England.