Newspaper review: Phone-hacking payouts scrutinised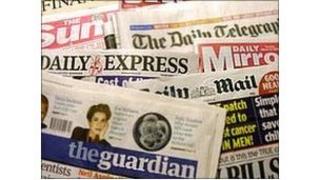 Friday's newspapers focus on the detail of the payouts for victims of phone hacking by the News of the World.
It was hard to imagine the scandal could get any worse for Rupert Murdoch's media empire, says the Guardian, but yesterday it did.
It is difficult to think of any precedent for a newspaper company so abjectly and serially apologising to claimants, says the paper.
The Daily Mail believes the payouts to 37 people could encourage more claims.
New chapter
The Times focuses on the revelation that emails were deleted three days after lawyers for actress Sienna Miller had asked that they be retained.
The Independent thinks the admission of computer hacking opens up a new chapter in the scandal.
Meanwhile, David Cameron's speech on capitalism is analysed in much detail.
The Daily Mirror says he appeared to copy a pledge by Labour leader Ed Miliband by saying there would be no return to what has been called "turbo-capitalism".
'Popular capitalism'
The Financial Times feels there were few ideas about how Mr Cameron would build an economy centred on socially responsible "popular capitalism".
We were glad to hear him back free markets, argues the Sun, although we would like him to do more to help them.
Fraser Nelson, writing in the Daily Telegraph, concludes the PM is the only party leader who understands capitalism, and has the best ideas for a credible solution. and has the best ideas for a credible solution.
The Independent says if politicians are serious about ethical capitalism they must focus attention on shareholders.
Kodak moment
The Sun is appalled by the latest crime figures, which show knife attacks rose by 10% last year.
The Daily Express thinks the increase in crimes such as knife-related robbery and burglary should tell ministers that more prison capacity is needed.
Finally, there is sadness at news of Kodak filing for bankruptcy in the US.
The Times says it was the stuff memories were made of, while the I describes Kodak as a brand that touched a nerve with virtually everyone.