Iran escalation 'could see UK forces sent to Gulf'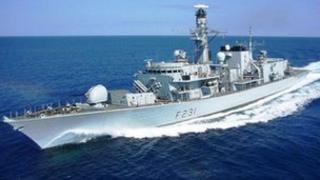 An escalation of a dispute with Iran could see Britain sending military reinforcements to the Gulf, Defence Secretary Philip Hammond has said.
Sending HMS Argyll as part of an international warship flotilla through the Strait of Hormuz on Sunday was a "clear signal" to Tehran, he said.
Iran has threatened to close the strait in retaliation for sanctions against its oil exports.
In total, 35% of the world's tanker-borne oil passes through the strait.
Asked if more resources could be sent to the region, Mr Hammond said: "The UK has a contingent capability to reinforce that presence should at any time it be considered necessary to do so."
He was speaking at a London press conference following the annual round of talks between UK and Australian foreign and defence ministers.
The European Union agreed sanctions on Monday to ban all new oil contracts with Iran and freeze the assets of Iran's central bank in the EU. Iran said the embargo is "unfair" and "doomed to fail".
The EU currently buys about 20% of Iran's oil exports.
Foreign Secretary William Hague said the sanctions represented "a significant increase in peaceful and legitimate pressure on the Iranian government to return to negotiations over its nuclear programme.
"Until it does so the pressure will only increase."
International support
Meanwhile, Australia's foreign minister Kevin Rudd said his country, whose exports to Iran have decreased, would also enforce the EU ban on Iranian crude oil exports.
"It is not just that we endorse the actions taken in Brussels for Europe, we of course will do the same for Australia," he said.
"The message needs to be delivered to the people of Iran, to the political elites as well as the government of Iran, that their behaviour is globally unacceptable.
"This is not a piece of idle philanthropy on the part of Australian foreign policy, this costs. But it is a cost worth paying."
Oil imports from Iran to Australia were now "negligible", he added.
US President Barack Obama has welcomed the EU sanctions, saying they show international unity against the "serious threat" posed by Iran's nuclear programme.