Oldham school planned with all ex-forces staff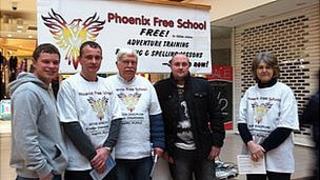 The first UK school whose teachers have all served in the armed forces is actively recruiting prospective pupils with a view to opening in 2013.
Captain AK Burki is handing out leaflets in a busy Oldham shopping centre for the school he hopes one day to run as head teacher.
"All the teaching staff will be composed of ex-servicemen and women," he tells passing shoppers.
"They will be able to bring a breadth of experience that only those in the armed forces can," he explains to a mother, who is concerned about her daughter's education.
It is a world away from the front line in Afghanistan, where Captain Burki completed a tour of duty in 2010.
"The elements of the armed forces we really want to instil in the pupils are the core values of the Army," says Capt Burki. "Courage, discipline, respect for others, integrity, loyalty and selfless commitment."
The group planning the Phoenix Free School in Oldham say they are pleased with the response so far - 60 children have been signed up. In February, they plan to submit their application to the Department for Education.
The idea of the Phoenix school was conceived by Tom Burkard, himself a former teacher and military instructor. He says the school will teach children between the ages of 11 and 18, and encourage high standards of behaviour, literacy and numeracy.
"Discipline is an absolute first priority," he says. "We are going to be using a house system where we are going to be building teamwork through competition.
"We plan to use competition to make sure all children develop the interest it takes to know enough about a subject so the subject becomes interesting in itself."
Burkard has been pushing the idea for several years, In 2008 he wrote a report Troops to Teachers for the Centre for Policy Studies, urging the government to adopt a successful US-style programme which retrains ex-servicemen and women as teachers. It suggested ex-forces staff could have a profound effect on discipline and learning.
It is an idea supported by the government. In the 2010 Schools White Paper, Education Secretary Michael Gove unveiled plans to offer former troops sponsorship to retrain as teachers.
The scheme is expected to come into force later this year.
Training fears
However, not everyone is impressed by a school full of military veterans. Many ex-servicemen and women at the Phoenix Free School will have had no formal teacher training, according to Mary Bousted, general secretary of the Association of Teachers and Lecturers.
Turning soldiers into teachers with no training is like trying to turn teachers into soldiers with no training, she argues, saying plans for the school are based on a shaky academic foundation.
"They seem to believe routine drills and discipline is what these children need. Well, some of them may need it, but not all of them will.
"The opening manifesto was laughable... when they start getting into a philosophical discussion about respect and self-respect - this is not a sound place on which to build a school," she said.
Will Mellor, aged 27, believes members of the armed forces like him can bring a unique set of skills to the classroom and hopes to become a teacher after six years in the Royal Marines, serving in Sierra Leone and in Afghanistan.
"In the Army, and in the marines, you're instilled with that self-belief from day one, because if you're not, you don't perform to the maximum potential that you have. We can bring that to the table," he said.
Another potential recruit is Matt Mathews, who has served 13 years in the Army. He joined up when he was just 16.
"Young adults don't understand responsibility, they don't understand respect, they don't understand authority.
"As someone from a military background, you do understand all that, and if we can instil that in the children at a young age - 11, 12 going up to 16 when they leave school - we're obviously giving them some key skills to go forward."
Racial divide
Oldham, where the school is planned, has a recent history of racial segregation. In 2001 there were riots that saw confrontations between white and Asian gangs. in 2011, a report by Bristol University found schools in the area remained polarised along racial lines.
Captain Burki is of Pakistani Muslim heritage but identifies himself as a Mancunian. He said: "The vision we have for the school is that it's going to have a healthy blend and mix of ethnicities."
He hopes the ethos of the school will appeal to parents of all backgrounds, and help bridge Oldham's racial divide.
"They need to live and work in a harmonious environment. There is always a fear of the unknown. It's human nature to fear the unknown, but if an element becomes known, you no longer inherently fear it."
Local residents have mixed views about former members of the armed forces teaching in schools.
"I think it's a very good idea," says Ajmal Ali, who runs a garage in the town. "I think the discipline is what kids in this area need."
"It all comes down to how strict the officers are," says Adam Beard, another local businessman, "because it's a fine line between a youth detention centre and a school."
The Phoenix project is applying for state funding as a free school which would be run outside local authority control.
If the project is approved, the Phoenix Free School will open its doors to pupils in 2013.
You can hear more on this story on Asian Network Reports on the BBC Asian Network.