Tory Lord Ashcroft 'concealed link to Caribbean firm'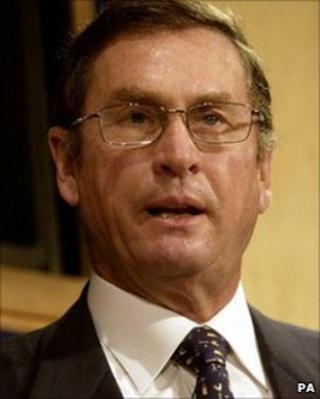 Conservative peer Lord Ashcroft concealed his involvement in a business that went bust with debts of around £19m, the BBC's Panorama has alleged.
The programme alleges that Lord Ashcroft misled the stock market and the media about his links to a Caribbean-based construction company.
Lord Ashcroft has given more than £10m to the Conservative Party.
He said he has had no "economic beneficial or legal interest" in the firm since he sold it in 1999.
But the programme has obtained evidence that shows Lord Ashcroft continued to secretly control the company, Johnston International, long after that date.
Faxes exchanged
Johnston was one of the largest construction companies in the Caribbean, until it closed down without warning in June 2010.
Panorama has spoken to 14 former employees, who all say they were told, long after 1999, that Lord Ashcroft was their boss.
One former employee, who did not want to be identified, said that Lord Ashcroft was often mentioned during meetings in the Johnston office.
"They used to refer to him sometimes as Michael Ashcroft and they would also refer to MAA, which are his initials.
"And they would refer to running things past MAA. And no-one was under any illusions as to who that was. It was very clear that that was Lord Ashcroft."
The programme has also obtained dozens of faxes that were sent to Lord Ashcroft by the Johnston chief executive after the 1999 sale.
They cover a seven year period and were all addressed to "MAA".
The faxes update Lord Ashcroft on company business and ask for his instructions on major building projects.
Lord Ashcroft then wrote his instructions on some of the faxes and sent them back.
Creditors are owed around $30m (£19m) following its collapse 19 months ago. They include many former employees who have been left thousands of dollars out of pocket.
George "Mason" Seymour, who worked for Johnston for 30 years, said the workers had been kept completely in the dark.
"All of us feel the same way right now because we all need money, we all got families, we've got school started a few months ago. We have bills to pay and there's nothing much going on."
At a creditors' meeting last September, Johnston's liquidators warned creditors that there was very little cash left in the company.
They also said that $2m should have been paid to the workers but had been transferred instead to the British Caribbean Bank, Lord Ashcroft's bank.
British Caribbean Bank denies that this money should have gone to the workers. Through its solicitors, the bank says that the transfer of Johnston's assets was entirely proper in every respect.
The bank says the assets represented security for loans: "It is entirely unsurprising that such secured claims would rank in priority to claims by unsecured creditors, including employees."
Lord Ashcroft declined to be interviewed. But in response to Panorama's most recent questions, his lawyers said that he stood by every statement he had made to the programme.
They also said that Lord Ashcroft did not have any kind of interest in the ownership of the Johnston group of companies.
But Panorama had not asked Lord Ashcroft about the ownership of Johnston. The programme had asked whether he controlled the company - and that is a question he has repeatedly avoided answering.
Panorama: Secrets of the Tory Billionaire, BBC One, was broadcast on Monday, 30 January 2012 at 20:30 GMT and is available in the UK on the BBC iPlayer.