French presidential candidate Francois Hollande unveils manifesto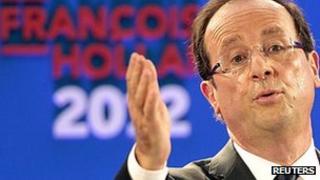 The Socialist presidential candidate in France has set out his election policies, saying he would target the rich to tackle the country's budget deficit and fund spending plans.
Francois Hollande pledged to create 60,000 jobs in education, 150,000 for young people, a tax bracket for high earners and a 15% bank profit surtax.
He currently has a strong lead over President Nicolas Sarkozy in the polls.
The president's camp called the manifesto unrealistic and unaffordable.
Mr Sarkozy has yet to announce whether he will contest the two-round election in April and May, although it is expected he will.
Among a 60-point plan set out by Mr Hollande was a pledge to eradicate France's annual budget deficit by 2017 - a year later than the president intends.
The BBC's Hugh Schofield, in Paris, said the socialist candidate's proposals would now come under intense critical scrutiny to see whether the numbers add up.
So far, even his enemies concede Mr Hollande has come across this week and surefooted and credible, our correspondent added.
Dominique Strauss-Kahn, the former International Monetary Fund chief, had been seen as the favourite for the Socialist party nomination before his arrest in New York on sexual assault charges in May last year. The charges were later dropped but the case was seen as having ended his political hopes.