Newspaper review: 'Westminster in the mountains'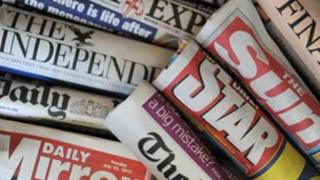 A Swiss ski resort is the centre of attention in Friday's newspapers.
The Guardian said Davos was "like Westminster in the mountains" on Thursday.
"Everywhere you looked there was a British politician," says the paper of the World Economic Forum.
None was more centre-stage than David Cameron, who gave a keynote speech.
The Daily Express says he "savaged the flawed framework of the Euro."
His speech struck The Independent as "a blistering message" aimed at the German Chancellor Angela Merkel.
The Sun calls it a "scathing assault".
The Daily Mail believes Mr Cameron "has every right to try to hammer some sense into the floundering Brussels elite".
The Financial Times thinks other European countries will regard his speech as "more unhelpful commentary."
The Daily Mirror is even more blunt - calling Mr Cameron a "hypocrite."
At home the deputy prime minister was making his appeal to a sense of fairness - with plans for reducing the tax burden on low and middle earners.
Daily Telegraph writer Michael Deacon said there was something about Mr Clegg's manner these days which suggests "he knows in his heart that his ideas won't be adopted".
The Guardian says his proposals would not help the poor and adds: "what's needed now is not so much a voice for the middle - as a voice to speak up for those at the bottom of the heap."
The Daily Mail and The Guardian both suggest Mark Thompson is about to step down as director general of the BBC.
The Mail counts among his successes the launch of the iPlayer, and the move to Salford of several departments.
The Guardian speculates about his successors and tips Australian Mark Scott as an "outside bet" for the job.
The BBC says: "As the BBC chairman has made clear earlier this week this is sensible succession planning and does not signal an immediate vacancy."