Newspaper review: Papers call time on banker witch-hunt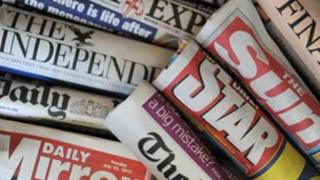 The Times says news of Stephen Hester's £963,000 bonus is being used as a convenient starting pistol for what has become an annual blood sport: the open season on bankers' bonuses.
For the Independent it is time to calm the hysteria, call off the witch-hunt and resist the temptation to do down the banking industry.
The Financial Times says Mr Hester is doing a thankless task cleaning up the giant mess he inherited at Royal Bank of Scotland - and he is thought to be making a fair fist of it.
But the Daily Mail thinks the fact Mr Hester is a man in an unenviable job does not justify the decision to award him the bonus.
In the view of the Sun if the government is applying a pay freeze in the state sector, there should be no exceptions, least of all for someone earning £1.2m a year.
The Daily Mirror says the cowardice of ministers, who have dodged requests to justify publicly the bonanza, adds insult to injury in the eyes of taxpayers.
A number of papers report David Cameron has dropped plans to block eurozone countries using EU institutions to enforce deeper fiscal union.
The Daily Telegraph says the eurozone countries want to use the European Court of Justice to enforce budget rules.
The Times says Britain is set to play a conciliatory role at an EU summit in Brussels on Monday - a development likely to unsettle many eurosceptic Conservative MPs, who want Mr Cameron to be bolder.
The Independent claims News International will launch a new Sunday newspaper - the replacement for the News of the World - on 29 April.
It says unveiling the Sun on Sunday - as it is expected to be called - on that date offers a chance to tie in with a possible Premier League title decider between Manchester City and Manchester United.
Finally, a school in Essex is giving pupils elocution lessons to help them drop their Essex accents, according to the Telegraph.