Queen needs Prince Philip at her side - Prince Harry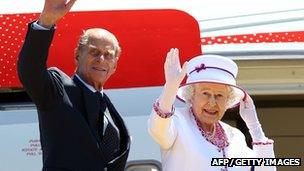 Prince Harry has said he does not believe the Queen can carry out her public duties without the Duke of Edinburgh, her husband of 64 years.
"I don't think that she could do it without him, especially when they're both at this age," he told Andrew Marr, in an interview for BBC One.
The interview took place before 90-year-old Prince Philip was treated for a blocked coronary artery.
It comes a week before the 60th anniversary of the Queen's accession.
Prince Harry also praised his grandmother for carrying out some public duties that he suggested she perhaps should not be fulfilling at the age of 85.
Marr wrote in an article on the three-part BBC series The Diamond Queen, published in Tuesday's Radio Times: "Prince Harry reflects on her ability to turn up, still smiling, at places she might not want to be: 'These are the things that, at her age, she shouldn't be doing, yet she's carrying on and doing them' (the prince says)."
The duke spent four nights in hospital after suffering chest pains on 23 December.
When he was discharged on 27 December, after having a coronary stent fitted in a blocked artery, Buckingham Palace said no decision had been taken on how soon he would resume public engagements.
But the next 11 months are likely to be busy for the Queen and her husband, as they travel across the country to mark the Diamond Jubilee. Celebrations begin on 6 February, the day Elizabeth II became Queen 60 years ago.
Prince Harry told Marr: "Regardless of whether my grandfather seems to be doing his own thing, sort of wandering off like a fish down the river, the fact that he's there - personally, I don't think that she could do it without him, especially when they're both at this age."
Marr wrote the Queen was "almost ludicrously busy" with an "astonishing workload".
Last year was also hectic for the Queen and her consort, who made an historic trip to the Republic of Ireland, hosted a state visit by US president Barack Obama and made a long-haul flight to Australia to tour the nation and attend a gathering of Commonwealth leaders.
"Having followed her, I can vouch for the cracking pace she and her 90-year-old husband set as they plunge into walkabouts, or face another forest of outstretched hands and eager faces," Marr wrote.
The broadcaster also spoke to the Duke of Cambridge, who said his grandmother had "carved" out her own path between "private and public and duty".
Prince William told Marr: "I think she doesn't care for celebrity... and she really minds about having privacy in general."
He added it was "a very tricky line to draw between private and public and duty and I think she's carved her own way completely - she's not had a blueprint".
Prime Minister David Cameron also told Marr about the regular private meetings the Queen has with her prime ministers.
He said: "She's seen and heard it all, but I think she wants to be in a position where she knows everything that's going on... she asks you well-informed and brilliant questions that make you think about the things you're doing."
Former PM Tony Blair told Marr: "Though conventionally it's supposed to be prime ministers briefing the Queen, I found it a genuine exchange… She had a very clear and shrewd sense of where people would be on political issues."
The first episode of the three-part BBC One series, The Diamond Queen, will be broadcast at 21:00 GMT on Mondays from 6 February, the day of the Diamond Jubilee.
Related Internet Links
The BBC is not responsible for the content of external sites.