London 2012 Olympics: Do we love the Jubilee Line?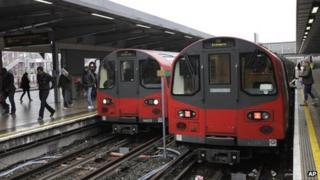 Mayor of London Boris Johnson says Olympic chiefs should use London Underground's Jubilee Line to get to events this summer. But what do others make of the silver line that runs from Westminster's corridors of power to some of the capital's most deprived areas?
Steven Thornett cuts a dashing figure in his dark overcoat and top hat, and the head doorman at the Park Lane Hilton is combating London's rush hour traffic with a smile.
"Quickest way to Stratford? Jump on the Jubilee Line - take a left on the corner and it's a five minute walk to Green Park. You'll be there in 40 minutes," he says, before whistling over a black cab for a Middle Eastern family and helping an American businessman haul his luggage through the hotel's front entrance.
The Hilton, where Abergavenny-born Mr Thornett has worked for eight years, will act as the headquarters for the International Olympic Organisation during London 2012, and VIP delegations from across the globe will be staying at Park Lane hotels.
They will mostly be shuttled to event venues in a fleet of coaches and chauffeur-driven BMWs along 30 miles of Games Lanes for Olympic officials and international media, among others.
The lanes will take up a third of an Olympic Route Network that covers 109 miles in the capital (as well as 170 miles outside), which is aimed at guaranteeing reliable journey times for those involved in London 2012.
The Games Lanes have sparked anger from businesses and residents concerned about increased congestion and traffic restrictions.
On Monday Mr Johnson urged the IOC chiefs and sponsors to forego Games Lanes and instead take advantage of London's public transport system, which has seen £6.5bn of improvements ahead of the Olympics. "Get on the Jubilee Line because they'll love it," he said.
But what's to love about the Jubilee Line?
Adele soundtrack
The BBC had a pleasant, if not passionate couple of hours on the Jubilee Line on Tuesday morning - catching an eastbound train from Baker Street shortly after 07:00 GMT that suffered no delays before arriving at Stratford less than 35 minutes later.
The return leg to Green Park was busier but almost as quick - the driver's announcement that we were being held at a station for one minute "to regulate the service" drew just one tut from the carriage.
The carriage was clean, its seats unspoilt by decomposing gum, and it was quiet.
At one stage a pink-shirted man in a suit and pointy brown shoes stood so close that I could hear Adele's dulcet tones emanating from his iPhone.
For one tall man curled inside the frame of the door it was clearly uncomfortable, but for the most part the packed journey was borne in stoic silence.
"It's over-used and when it goes down, it really goes down, said banker Kevin Buck, who was heading to Bond Street from London Bridge - which is expected to be one of the busiest Tube stations this summer. "But it's better than most lines."
Sandra Clark largely agreed. "The platforms are much improved and it's safer and cleaner than most of the Underground," said the safety officer as she enjoyed a croissant at Stratford Station before heading to work in the Olympic Park.
Louise Fitzmaurice, who was using a crutch after a hip replacement last year, went further, saying it was "fabulous" that there were trains roughly every two minutes on the line.
"Although no-one ever gives you a seat," said Ms Fitzmaurice, an IT specialist for a French investment bank.
"The Metro [newspaper] is clearly unbelievably interesting in the morning."
Step-free access
Tube driver Amanda Jones, who during 27 years with Transport for London has driven buses as well as Tubes, said she preferred the Jubilee Line to the Northern Line, as it was clean and quick, rather than "slow, dirty and old".
With 700,000 users a day, fans of the silver route that weaves across the capital cite its relative newness (it opened in 1979, with the extension between Westminster and Stratford opening in 1999), largely step-free access, added safety of platform barriers and toilet availability at stations.
But despite the improvements, Alison Read, who was taking her ME-suffering daughter to UCL hospital in central London, was struggling to get Eleanor's wheelchair around the underground system.
"The staff at Waterloo were incredibly helpful," said the trainee teacher from Kingsclere in Hampshire.
But she said lifts were poorly signposted, and that a gap between the trains and the platform made access difficult.
"Eleanor simply wouldn't be able to do this on her own," said Ms Read. "And it's so crowded."
As the UK gets ready to welcome 14,000 athletes, 7,000 technical officials, 20,000 media and 11 million spectators come games-time, that crowding is only going to get worse.
An extra three million journeys are expected in London on the busiest days of London 2012 , and hotspot maps showing expected tube station congestion during the Games made it look like London's underground system has developed severe acne.
For the most part, it seems Jubilee Line users will put up with the added congestion. They like the line, but as designer Jorin Buschor - who commutes from Raynes to Canary Wharf for his job with Citibank - put it: "It's not something to get excited about."
So perhaps "loving it" is going too far: The most amorous the silver line got on Tuesday morning was the stifled giggles of a pair of lovers, which briefly interrupted the steady whoosh of the Tube.